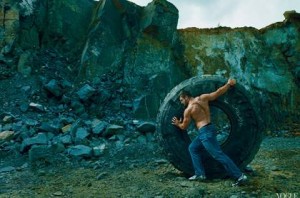 Football player Tim Tebow (he was on the Denver Broncos and has since been traded to the New York Jets) is interviewed in this month's issue of Vogue. Although he doesn't land himself on the cover, he does get a photoshoot (an image from which you can see here) and a headline calling him Superman. In the interview, Tebow says that he would like to get married someday, and that he wants a woman with a "servant's heart." Um, what?
Though it might sound like sexism, the "servant's heart" thing is pretty common in evangelical Christianity.
Michelle Duggar
has described several of her daughters this way, and it's considered an ideal state of being for a devoted Christian wife. It comes from Deuteronomy 28:47: "Because you did not serve the Lord your God with joyfulness and gladness of heart, because of the abundance of all things, therefore you shall serve your enemies whom the Lord will send against you, in hunger and thirst, in nakedness, and lacking everything." In other words, Tebow wants a woman who is using her heart to serve God, not to serve him. Do we think
Katy Perry
fits that description? Or perhaps
Taylor Swift
?