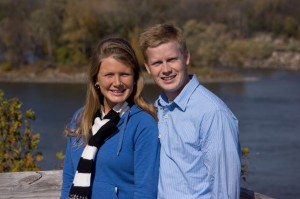 Earlier this year, I reported that David Waller and Priscilla Keller, the sister and brother-in-law of Anna Duggar whose wedding was featured on 19 Kids and Counting, were expecting their first child. Well, the Kellers have updated their blog and let everyone know the sex (boy) and due date (March 9) of their baby.
I really like David and Priscilla on the show, mostly because I like how all my commenters speculate about David's sexuality. But overall, I find the Keller family much less rehearsed and camera-ready than the Duggars, who have had years' worth of media training. Also, it looks like David and Priscilla will get more screen time on 19 Kids and Counting this year. I suspect that that has to do with two major factors:
1) If the show is ending soon, there might be a Josh and Anna spinoff, which would feature their kids and more of Anna's family; and
2) None of the older Duggar kids except Josh have been allowed to get married or start families of their own. At this point, they're almost old maids/bachelors in their ultra-religious community, and it seems like Jim Bob and Michelle want to keep their kids at home either for the good of TV or because they're needed to keep house and raise younger siblings. David and Priscilla are kind of cheesy, but at least they get to be adults.
Let's start a pool and bet on whether Baby Boy Waller's birth will be featured on TV. I vote yes.