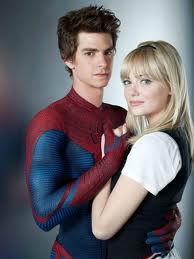 Local leaders in the heavily Hasidic Jewish neighborhood of south Williamsburg, Brooklyn (full disclosure: I lived there until about two months ago) are not happy about The Amazing Spider-Man 2 filming in their 'hood. But they're not complaining about the movie or its stars. Their problem is that the shoot, which would involve closing off several neighborhood streets, is scheduled to take place during Passover.
"Now is the busiest time of year, when not only are the families home, but everybody's having guests. It's already congested, and there's so much parking in need. It's not fair to take away so much space," local leader Rabbi Moshe Indig told DNAinfo.com.
The shoot is scheduled to take place in Williamsburg from March 22-27. Passover begins the night of the 25th. The first two full days of Passover are considered on par with the Sabbath, which means that Orthodox Jews will observe the same rules: no driving, no electricity, no using the phone, etc. That means they wouldn't be able to move cars out of the way or call the city to complain if there was a problem.
So far, filming permits have not yet been granted. We'll see if Andrew Garfield and Emma Stone end up making it to Brooklyn or not.