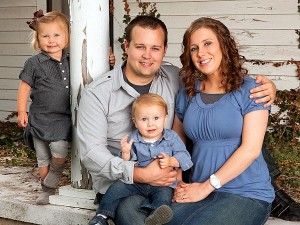 Josh Duggar, the oldest of the Duggar kids, is finally leaving the nest. Gossip blog Naughty But Nice Rob reports that Josh, pregnant wife Anna Duggar, and their two kids will be moving to Washington, DC, so Josh can pursue a career in politics. Though Josh isn't naming his new workplace just yet, he says it's a Christian organization that promotes "family values and right to life."
Josh, like the rest of the Duggar kids who are over 18, has a GED but no college education. (The Duggars frown on mainstream education and all the kids were homeschooled.) I guess you don't need a college degree to work in politics now? My guess is that Josh will be involved with a group like Focus On the Family, not working on the Hill. It must be nice to get a job you're not qualified for because your mom and dad have a reality show.
So, what does this mean for 19 Kids and Counting? The Duggars love to drag the entire family (including Josh's kids, Grandma, and their aspiring country singer cousin Amy) along with them whenever they go on a trip, so losing Josh and his family means losing four – and soon to be five – extra bodies to drag along every time they go somewhere. And what about that used car lot that Josh is "running"? I'm guessing that it'll get handed off to a younger brother so that he can establish his own income and then begin the courtship process. And considering how much focus Josh and Anna have gotten this season, they might be in line for a spinoff. Man, I need to go take some deep breaths now.
Update: Josh will reportedly be working at the Family Research Council as a senior (sigh) executive (double sigh).