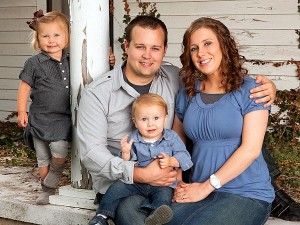 This morning, the entire Duggar family – from mom and dad Jim Bob Duggar and Michelle Duggar down to their youngest kids and grandkids – appeared on the Today show. When the family appears on Today it usually means they're announcing a pregnancy, and today was no exception – Anna Duggar, wife of oldest son Josh Duggar, is expecting her third child. The couple, who are choosing all M names for their kids, already have Mackynzie and Michael.
While it's great that Anna and Josh are having another kid, it's also pretty anticlimactic if you follow the Duggar family. If anything, this appearance only highlighted for me how weird it is that Josh is the only married Duggar kid. The four oldest daughters – Jana, Jill, Jessa, and Jinger – have all been of marriageable age in their community for some time, and I can't help but think that they're deliberately being kept at home raising their younger siblings and running the house rather than being allowed to live their own lives. Considering how Josh and Anna's wedding was ratings gold for 19 Kids and Counting, you'd think the family would want a few more televised marriages in order to keep things interesting. But I guess that's falling by the wayside in favor of a paid-for-by-the-network trip to Asia.
Josh and Anna didn't mention M3's due date, but Anna's sister Priscilla Waller is pregnant with her first and due any day now.
[Update: Thanks to commenter Ocross, who was paying closer attention than I was, we know that Anna's due date is June 6.]