Slavery is wrong. It is sinful. A pernicious evil in which humans seek to become as God over their fellow man. I hate it with a passion. And my heart hurts for the countless thousands of peoples who are in bondage still today across the world. Support one such freedom spreading orgnaization here.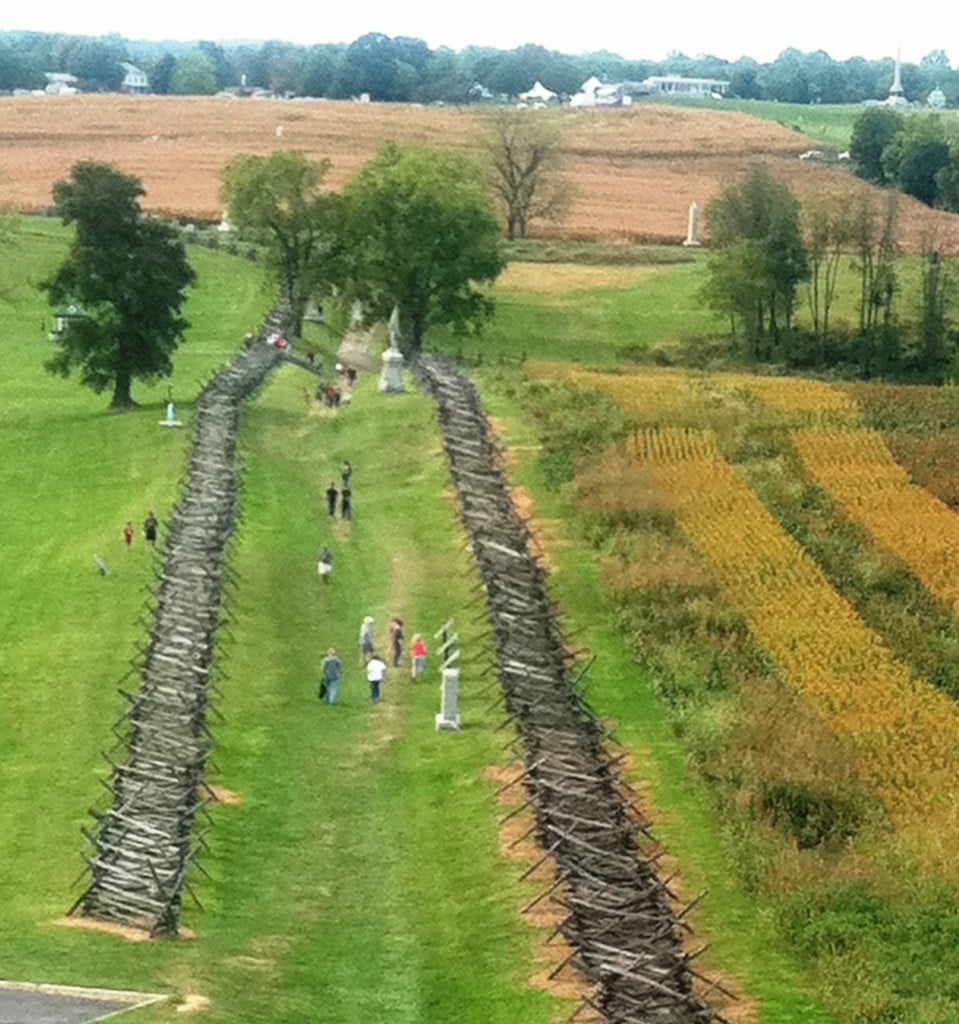 And yet after a recent visit to the sacred grounds of Antietam, site of the bloodiest 12 hours in American military history, I find myself asking troubling questions about a document that supposedly began the end of slavery in our country. School children are taught from an early age that by issuing the Emancipation Proclamation, President Abraham Lincoln freed the slaves. But in doing so, was he wrong?
Can two wrongs make a right?
I know some historical experts far more knowledgeable in such issues will have a deeper take on it. And I suspect my questions are not new. But with the 150th commemoration of the preliminary Emancipation Proclamation on September 22, maybe it's time to revisit them — without having charges of "Racist!" flying in the comments for daring to ask the obvious.
My questions were triggered by the many incredibly knowledgeable presentations given by National Park Rangers who did a phenomenal job of handling the 50,000+ visitors each of the three days of our visit to Antietam this past weekend. They truly did a magnificent job.
One ranger in particular, though, answered a question poised to him by my son: what is the one thing we should remember about the significance of the Battle at Antietam? He replied that the battle was the prelude to the Emancipation Proclamation — as if the Proclamation itself was a significant event worth the sacrifice of over 23,000 dead, wounded, and missing in the space of twelve hours. Not being the jerk that some might think me to be, I chose not to ask my questions then and embarrass him — or me.
A few sincere questions
But here are my questions about the Emancipation Proclamation, sincerely offered, because I'm concerned that Lincoln may have hoped that two wrongs would indeed make a right and help bring an end to slavery in a re-united United States.
Did Lincoln even have the authority to issue it? As best I can tell, Lincoln claimed authority under the War Powers Act to issue the Emancipation Proclamation. But if the President could simply have waived away the institution of slavery, wouldn't it have been done long before instead of tolerating decades of Congressional wrangling and compromises? In many ways, Lincoln's action reminds me of John Brown's assault on Harper's Ferry a few years prior. In an effort to arm slaves and inspire them to rebel, Brown stormed the ferry and seized the arsenal there — at least for a little while. I stood in his "fort" last Saturday and thought again that this guy had the right motive, but the wrong means. Did Lincoln have any constitutional authority for mandating the end of slavery in the southern states or did he hope that re-uniting the union would justify his actions?
Why did Lincoln only free slaves in the South? Few people know, I suspect, that Lincolon's Emancipation Proclamation triggered by Antietam only proclaimed as free those slaves in Southern states — that is states that no longer recognized his authority. In many ways that would be like my proclaiming that all abortions will now be illegal throughout China. I think they should be, by the way, but no one there cares what I say. The Southern states clearly no longer cared what Lincoln said.  I suspect his true motives were revealed more by what he didn't say than by what he did. He did not proclaim slaves to be free in border states — such as in Maryland itself — that supposedly did recognize his authority. Why? ( I've heard the War Powers limits argument, but don't buy it.) The short answer is that those states would likely have ignored his directive on Constitutional grounds. It would have created more political chaos than he could afford at that time. According to one knowledgeable park ranger, Maryland itself had 2/3 of the eligible population disenfranchised (that's right, they were not permitted to vote) in order to force a new constitution on them that was supportive of the North. Hmmm. Don't remember reading that one in the history books in school.
What was the real motive for it? According to several accounts at the park, I discovered that Lincoln had been waiting for an opportunity to issue the Emancipation Proclamation after a victory of sorts in the east for the North. By making the move then, he hoped to portray the conflict as a moralistic one — about slavery and not over a state's right to secede — to deter Great Britain from entering the fray. The tie at Antietam — a net loss for Lee and the South — gave Lincoln the opening to make what essentially amounted to a savvy PR move to recast the conflict and give the North the moral high ground. But did he do so by claiming authority that was not his? And if so, why do we so exalt a Proclamation whose idea looks good on paper but in practice accomplished no new freedom for anyone and trampled the Constitution to do so?
Again the disclaimer that has become necessary whenever we discuss issues of race. Slavery is evil. Why the South ever thought otherwise is beyond me — especially when there were so many devout Presbyterians there. But I digress.  On the issue of state's right's I think they had good standing. But the whole slavery thing, I confess, puzzles and grieves me greatly.
I suppose we must recall that the entire world supported the practice of slavery in some form prior to the work of Wilberforce and take comfort that our nation is the only one to ever have fought a war that resulted in its end. Wherever the gospel has gone, it has eventually set the captives free.
But I just can't shake an old adage I heard as a lad: "It's never right to do wrong in order to get a chance to do right."
Is that what Lincoln did with the Emancipation Proclamation? Was Lincoln wrong? All civil comments welcome with a click here.