It's an odd pairing, I admit. George Soros and Evangelical Christian leaders. There can be little doubt that the Soros agenda and that of most Christians — even most people — is radically different.
So why are some claiming that Soros actually enlisted the help of Evangelical leaders to try to push the immigration bill (S. 744) now before the Senate? Did he?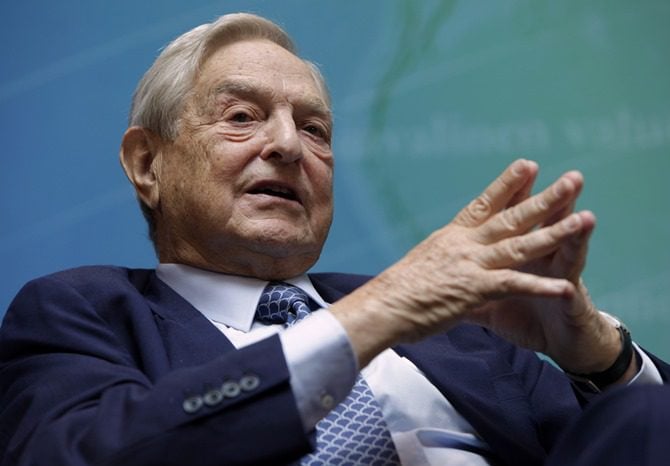 The answer is yes. And no.
Yes, Soros is funding the the ad campaign for the group claiming to represent 170 Evangelical leaders in support of S. 744. No, most of those leaders likely did not intend to support any specific piece of legislation when they signed a general statement of biblical principles on immigration.
First Things First
The group claiming to represent Evangelical leaders is the Evangelical Immigration Table. The list of members follows:
Heads of the Evangelical Immigration Table

Leith Anderson, President, National Association of Evangelicals
Stephan Bauman, President and CEO, World Relief
David Beckmann, President, Bread for the World
Noel Castellanos, CEO, Christian Community Development Association
Luis Cortés, President, Esperanza
Richard Land, President, Southern Baptist Ethics and Religious Liberty Commission
Samuel Rodriguez, President, National Hispanic Christian Leadership Conference
Gabriel Salguero, President, National Latino Evangelical Coalition
Mathew Staver, Chairman and Founder, Liberty Counsel
Jim Wallis, President and CEO, Sojourners
But the Evangelical Immigration Table (EIT) doesn't exist as a legal entity, so it has relied on the National Immigration Forum (NIF) to fund its extensive advertising campaign in favor of immigration reform and of the Senate's "Gang of 8" bill (S. 744). From a story at Breitbart.com dated June 2: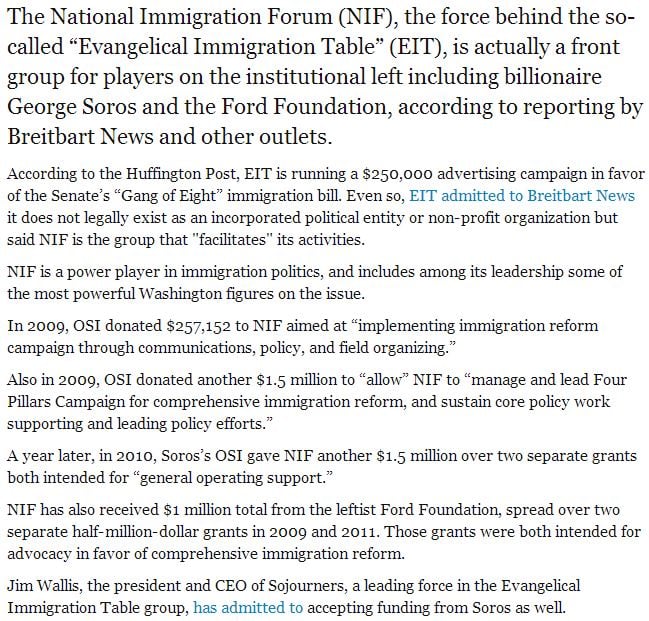 More from Breitbart about the announcement of the $250,000 ad campaign and where the money is coming from:
Ms. [Lynne] Hybels was not only featured at a Thursday press conference at which the front group, Evangelical Immigration Table, announced the launch of a $250,000 ad campaign designed to pressure members of Congress to vote in favor of the "Gang of Eight" bill, she provides the narrative voice on one of the national radio advertisements included in the campaign. You can hear her make the case for her understanding of immigration reform here  Note that Ms. Hybels also states the disclaimer at the end of the ad "paid for by the Evangelical Immigration Table. "

However, Breitbart News reported on Sunday that the Evangelical Immigration Table does not exist as a legal entity.  On Monday, Breitbart News reported that "Evangelicals Mislead on Funding of Immigration Ads." Though the ads that are now airing in 13 states contain a disclaimer that they are paid for by the Evangelical Immigration Table, however, the ads were actually paid for by the Soros-funded National Immigration Forum.
So What Did the Evangelical Leaders Sign?
That's a good question. As best can be discerned from the EIT site (as of June 14, 2013), they signed the pretty generic statement of principles that follows:
Evangelical Statement of Principles for Immigration Reform

 

Our national immigration laws have created a moral, economic and political crisis in America. Initiatives to remedy this crisis have led to polarization and name calling in which opponents have misrepresented each other's positions as open borders and amnesty versus deportations of millions. This false choice has led to an unacceptable political stalemate at the federal level at a tragic human cost.

As evangelical Christian leaders, we call for a bipartisan solution on immigration that:

Respects the God-given dignity of every person
Protects the unity of the immediate family
Respects the rule of law
Guarantees secure national borders
Ensures fairness to taxpayers
Establishes a path toward legal status and/or citizenship  for those who qualify and who wish to become permanent residents.

We urge our nation's leaders to work together with the American  people to pass immigration reform that embodies these key principles and that will make our nation proud.
END OF STATEMENT
On the surface, it's a pretty innocuous set of simple principles that I think most Christians would agree to. I certainly would. But that's all it is. A general Biblical framework, not an endorsement of a specific piece of legislation.
You can see the full list of who signed it here.
Likewise, this is how those principles were originally conveyed to President Obama and, in a similar fashion, to Congressional leaders in November, 2012: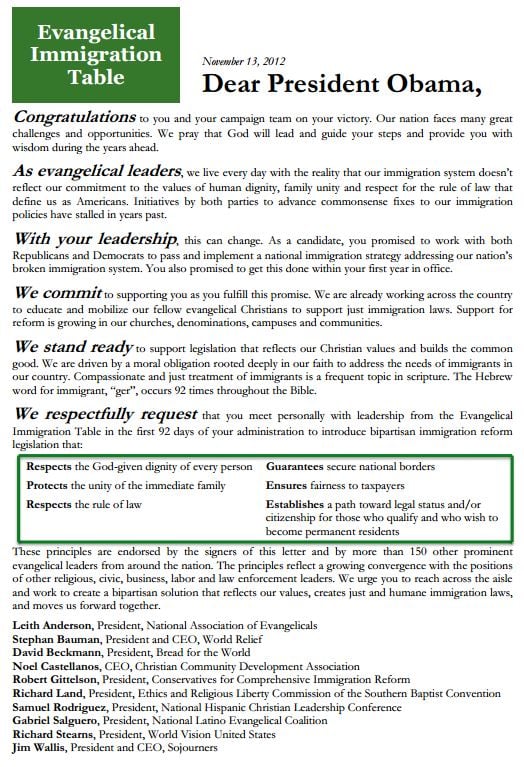 Yet this is how the EIT characterized the support of those same Evangelical leaders for the current "Gang of 8" immigration bill (S. 744) in an open letter to Congress dated May 2, 2013:

…

…

A subtle, but significant shift took place between the endorsing of general principles by over 170 Evangelical leaders and their implied blessing of a specific bill that "largely upholds our principles" concocted by the Gang of 8 (S. 744). If I were into conspiracy theories, this bait-and-switch would surely seem to qualify for consideration. A loose confederation of Evangelical leaders that doesn't even exist on paper being funded by an globalist atheist known for allegedly manipulating entire economies to achieve his open borders agenda. Hmm. Good thing I'm not into conspiracies.
Life Imitating Art
The plot sounds very much like a case of life imitating art. Regular readers may recall my review of the novel The War Against God
, by David Kullberg. The plot features a globalist atheist who manipulates evangelicals through crafty means, shoddy theology, and slick advertising  into endorsing his agenda. Ironically, the book was written well before most had ever heard of George Soros. Yet here we are, wondering how so many evangelical leaders seem to be supporting legislation that does not — yet — fulfill the biblical principles they endorsed or the full counsel of the gospel. Short answer? They didn't. Not many of them anyways. It just looks as if they did. By the time anyone learns differently, the 1,000+ page bill will have been passed so we can find out what's in it. [Another topic for another day.]
Here's a link to prominent Evangelicals reading Scripture apparently designed to guilt rank-and-file Evangelicals into shoddy theology through slick advert — no, wait. That sounds like some crazy conspiracy out of a novel.
So Now What
Yesterday, I featured a response to the EIT Soros-funded effort from Evangelicals for Biblical Immigration, an open letter to the US Congress by Kelly Monroe Kullberg.  Frankly, many of these sincere and well-intentioned Evangelical leaders — for most of whom I have the highest of regard — appear to have been the unwitting victims of a classic bait-and-switch.
The implications of this manipulation are just beginning to surface as awareness grows. For example, according to several sources (including this report from the SBC Convention) Richard Land, outgoing  Head of the Southern Baptist Ethics and Religious Liberty Commission (ERLC) for the Southern Baptist Convention (and EIT member), and the incoming Head Russell Moore faced stiff questioning from two prominent voices in the SBC about involvement with George Soros and the "Gang of 8" bill in particular just this week:
Land and Moore fielded two questions from the floor between their addresses, both praising Land's advocacy on a host of issues including abortion, marriage and religious liberty but also calling into question their advocacy on immigration reform, which went unmentioned in either official's prepared address.

In the first question, Alabama Baptist State Convention President the Rev. John Killian noted reports on atheist billionaire George Soros' funding the National Immigration Forum, of which the Evangelical Immigration Table is a project. Asked if the ERLC would participate in any political project "directly or indirectly funded" by Soros, Land did not directly address Soros' funding and ERLC participation in the Evangelical Immigration Table. Instead, the outgoing Southern Baptist official responded that the ERLC was following instruction from a 2009 resolution "to pursue immigration policies that would find a pathway toward legal status for those who are here in an undocumented status with appropriate fines and penalties."

"That is the kind of legislation we have been supporting and will continue to support because we believe that is what the majority of Southern Baptists want us to support," Land explained, adding that such a policy "is not amnesty."

Land described amnesty as "what Jimmy Carter gave the draft dodgers who went to Canada instead of serving in Vietnam" allowing them to return without penalty.

In the second question, South Carolina State Senator Lee Bright, who also serves on the ERLC, asked Moore if the ERLC was going to actively support "the 1,000 page immigration bill" under debate in the U.S. Senate.

"We are going to support principles, we are not going to support specific pieces of legislation," Moore responded. "What we support is a just and compassionate approach to dealing with the millions of people in American society right now who are invisible, seeking a better future for their families. We also want to maintain the rule of law and the security of our borders."

Interjecting, Land added that the present bill, if it is to pass, "will get a lot stronger on border security because it has to get through the House of Representatives."
Yet the letter to Congress pictured above and dated May 2, 2013 — with Dr. Land's name on it, clearly does endorse the "Gang of 8" bill. And let's face it, there is only one immigration bill before Congress right now. So the many ads that don't mention specifics, that only call people to tell their congressperson they want action on immigration, can only mean one thing.
And I'm fine with groups pushing for specific legislation. Just be honest about who signed what. Don't take advantage of scores of well-meaning Evangelical leaders by publicly manipulating them into seeming to endorse legislation they never intended to endorse. After all, how does one go about removing one's name from a Biblical framework statement with which he or she very much agrees — without looking like an uncaring idiot?
A daunting task indeed.
An Invitation
To those signers of the original statement of principles who wish to clarify their support — or lack thereof — of a specific legislation, the door is open here at my site at Patheos. I'll happily consider sharing clarifying statements or even some space to offer your own perspective on the growing controversy — before a bill is passed with your name implied as having been supportive. You can reach me via e-mail at Bill@BillintheBlank.com.
There's more to be said about the shoddy theology being used by the group's leaders. For now, may God yet lead the crafting of the final version of the bill now before Congress to truly align with the Biblical framework first proposed by the EIT.