People love people who go first.
With that pithy remark, Tim Elmore set the tone for the Catalyst 2013 lab session in Atlanta entitled "Marching Off the Map: A Compass to Help the Next Generation Navigate New Technology and Spirituality."
Tim Elmore, founder and President of Growing Leaders and author of Habitudes for the Journey: Images That Form Leadership Habits and Attitudes
, noted that we have to adjust to a new reality thanks to technology and the way the next generation, Generation iY, now thinks.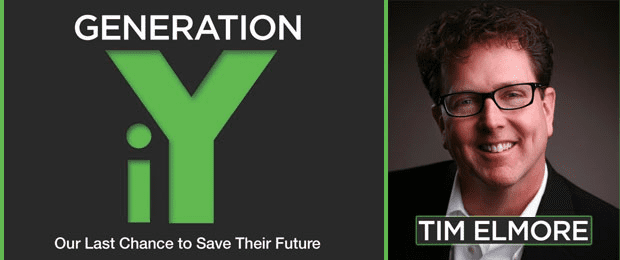 Tim pointed out that when confronted by change, we fall into one of two categories: pioneers and settlers. Most people are content to be settlers. But the church needs pioneers. When the church first began, they were setting the issues and society was scampering to catch up. Now the church seems to be chasing society.
According to Tim, we are leading a generation of firsts. They are the first generation who
Don't need adults to get information. They need us for interpretation. They need help to process the data in a worldview. As I put it, we need to train them to filter what is now, for all practical purposes, infinite information.
Can broadcast their every thought or emotion. This can be a very bad thing. Most of what they broadcast will be forever out there in the digital ether.
Enjoys external stimuli at their fingertips 24 / 7. The danger is that we then fail to develop their internal motivation. How will they succeed when nothing is pushing them to do so?
Is in social contact at all times yet often in isolation. They are extremely social yet often lacking emotional intelligence and deep relationships. Some college students are even showering with their cell phones, yet there has never been deeper sense of isolation.
Will learn more from a portable device than a class. Most teachers will instinctively hate this, but as Clayton Christensen has pointed out in his book Disrupting Class: How Disruptive Innovation Will Change the Way the World Learns, technology can free the teacher from being an information deliverer to focus on ensuring learning takes place.
Adults have actually enabled to be narcissistic. We've enabled them to be into themselves. Part of adulthood is getting ready for a world that isn't really about them, but no one has told them that.
Uses a phone instead of a wristwatch, camera, wall calendar or board game.
What Drives the Assumptions of the Next Generation
Generation iY, as Tim Elmore calls them, can be described according to the acrostic SCENE which captures what drive their assumptions:
| | |
| --- | --- |
| Their world is full of… | Therefore, they assume that… |
| Speed | Slow is bad |
| Convenience | Hard is bad |
| Entertainment | Boring is bad |
| Nurture | Risk is bad |
| Entitlement | Labor is bad |
As an example of our over-protective approach to kids, Tim reminded the session how we used to have monkey bars on the playgrounds. But slowly, over time, we removed the monkey bars. After all, a child could and did occasionally fall and break an arm. Now, Tim said, "We put helmets on them at dinner time." [ See my post Here's a Quick Way to Destroy Your Kids. ]
I agree with Tim that kids need to learn to fall in order to learn how to get back up. Although we never want our child to break an arm, they can learn a lot from the process, including how to fail and recover. We have protected this generation to such an extent that they have become exceptionally gifted at avoiding risk.
But growth is risky business. Without risk there can be no growth.
How Should We Lead Them?
Here are ten tips Tim Elmore of Growing Leaders shared on how to read this next generation:
Don't think control, think connect. What if our goal was to authentically connect with students? When we connect, influence happens. We must build bridges of relationship that can bear the weight of truth. [ Tweet this! ]
Don't think inform, think interpret. We should want students to flourish when we're not around.
Don't think entertain, think equip. We first share the why before we share the what. When they understand the why, they engage and want the what in order to do the why.
Don't think "Do it for them," think "Help them do it." When we started taking monkey bars off the playgrounds, we set up students for phobias about normal risk-taking ventures. So they're still living in the basement, afraid to take even mild risks. According to The Baltimore Sun, 80% of college grads plan to move home after graduation.
Don't think impose, think expose. When something goes wrong, don't just pass a rule. None of us like to be forced. But when we make something available and invite them to it, they respond powerfully. Expose beats impose almost every time. When you let them own it, the result is amazing engagement.
Don't think protect, think prepare. The world is full of stories of schools banning red pens, refusing to say "no" in the classroom, and even referring to a failing grade as "deferred success." But that's not going to fly in the real world. They won't be ready for the world that awaits them in the name of protection. Grace does not take away truth. It's grace and truth.
Don't think tell, think ask. Did you ever notice how often Jesus asked question to lead? Students support what they help create. Lead through questions.
Don't think cool, think real. Kids will tell you, the only thing worse than being uncool is being unreal. [ Tweet this! ]
Don't think prescriptive, think descriptive. Instead of giving steps, give a story. We've lost the ability for kids to use their imagination by surrounding them with step-by-step instructions. Even Legos now come with diagrams.
Don't think lecture, think lab. Engage our students in experiences, but not in order to dwell on the past experiences. Make sure they are gazing at the windshield and not the rear view mirror. Our dreams should be bigger than our memories. [ Tweet this! ]Habitudes full of images built around real life experiences.
I highly recommend his book Habitudes for the Journey: Images That Form Leadership Habits and Attitudes
and related materials that use familiar images from real-life experiences as metaphors for key life lessons. Check out their site at GrowingLeaders.com to learn more.
And leave a comment below with your thoughts about the points he made at the Catalyst 2013 lab session.