I'd been casually surfing my YouTube Feed and saw an advertisement of a product sampling from a reputable kitchen ware company I admired. I was elated. Anyone who knows me well understands my love of all things food and cooking. The bonus was that my 9-year old daughter loves cooking just as much as I do.
I'd recently had to leave all of my kitchen ware behind in a recent move and thought that the free product sampling would serve my daughter and I well at our temporary location. The idea of having the small set of measuring cups/spoons, whisk, spatula, and other items brightened my morning. I was super-excited to get the ball rolling in claiming my free gift online. All I had to do was complete a simple survey and I'd have what was promised to me. So I clicked on the designated link…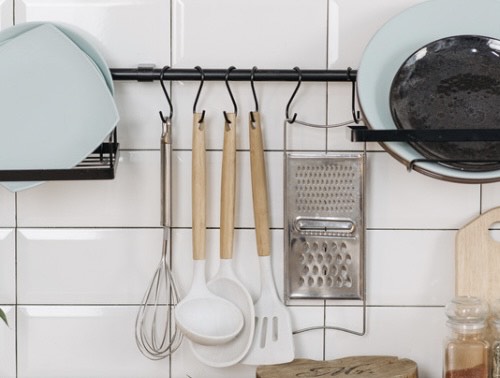 A Dark Internet Hole
Shortly after clicking the applicable link, I realize that the reputable company that created the kitchen ware products was not the actual organizer of the give-away. Before I know it, I'm being asked to complete not one, but a seemingly endless amount of surveys. Various offers of other unrelated products were being presented to me and I am ANNOYED! I just want one thing – the kitchen ware set that was originally offered!
Motives and Heart Check
What was I really looking for? Was it really a few kitchen utensils of my own or something deeper? After pausing and blocking the influx of spam emails and text messages that flooded my phone, I thought a bit about what I'd done.
Yes, I was missing some aspects of what I recently left in my former residence. But clearly I was trying to create a particular home experience without the necessary patience needed in my current journey and transition. So without considering the cost (including being spammed and lied to), I resorted to exchanging my personal information for an obvious hoax. I was desperate for home…
Another Example
As I examined my own motives, I thought of one of my favorite couples in the Bible – Abraham and Sarah.
Now Sarai, Abrams's wife, had not been able to bear children for him. But she had an Egyptian servant named Hagar. So Sarai said to Abram, "The LORD has prevented me from having children. Go and sleep with me servant. Perhaps I can have children through her." And Abram agreed with Sarai's proposal. – Genesis 16: 1 -2 (NLT)
Clearly, Abraham and Sarah had a lot to consider as they wanted to have a child of their own. They were getting older and were well beyond being senior citizens. God had undoubtedly communicated that nations would be birthed through them (Genesis 12). But where was the promise?
Unfortunately, Abraham and Sarah decided to take matters into their own hands. However, inviting Hagar into their lives would prove to be a disaster. The chaos and tension that flooded their home was more than what this couple could handle (Genesis 16: 4 – 6,  Genesis 21: 8 – 14). Abraham and Sarah were simply desperate for home…
Pureness of Pursuits
But what if people like me or you stopped being desperate for home? What if we cultivated a lifestyle of patience? What if we honed in more to the plans that are good and God-ordained? What if we stopped being desperate and simply trusted God's plans for us?
For I know the plans I have for you," says the LORD. "They are plans for good and not for disaster, to give you a future and a hope. In those days when you pray, I will listen. If you look for me wholeheartedly, you will find me. I will be found by you." says the LORD. "I will end your captivity and restore your fortunes. I will gather you out of the nations where I sent you and will bring you home again to your own land." – Jeremiah 29: 11 -14
It's not like I NEEDED that kitchen utensil set anyway. I really do have everything I need (plus more) in my current residence. And so I repent. I seek to change the way I think about reaching for more (outside of God's way and timing) when He has already provided well for me right where I am. With God, my worth is not equated with the things that I can attain here on this earth. Clearly, it's time to refocus.
Desperate for the Right Things (Scripture Inspiration)
Seek the Kingdom of God above all else, and live righteously and He will give you everything you need.

– Matthew 6:33

But our citizenship is in heaven. And we eagerly await a Savior from there, the Lord Jesus Christ.

– Philippians 3:20

I press on to reach the end of the race and receive the heavenly prize for which God, through Christ Jesus, is calling us.

– Philippians 3:14

Set your minds on things above, not earthly things.

– Colossians 3:2

For to me, to live is Christ and to die is gain.

– Philippians 1: 21

As the deer pants for water, so I long for you, O God.

– Psalm 42:1