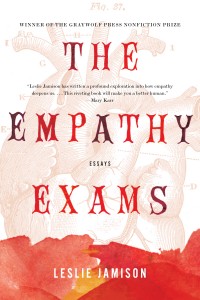 Leslie Jamison's essays in The Empathy Exams ask – and begin to answer – an array of important questions about pain, healing, and empathy. To list just a few: When does empathy actually reinforce the pain it wants to console? Can pain be actual and constructed at the same time? And how do we represent female pain without producing a culture in which this pain has been fetishized to the point of fantasy or imperative?
Jamison frames her writing as "a search for possibility," which could be said of the essay form at its best. Her search takes readers from American hospitals and prisons to Bolivian silver mines, to a literary gathering in Tijuana and a Baptist church in Austin hosting a conference for sufferers of Morgellons – a disease most doctors don't believe is real. And while the essays often begin from her own experiences – for example, as a medical actor evaluating trainee doctors on how well they showed empathy – their vast world gives readers room to form a broader response of their own.
Part of what makes this possible is how frequently Jamison acknowledges our capacity to feel two seemingly contradictory things at once. For example, in an essay on artificial sweeteners and sentimentality, she writes, "Bad movies and bad writing and easy clichés [can] still manage to make us feel things toward each other. Part of me is disgusted by this. Part of me celebrates it." It's this ability to hold contrary feelings in tension that translates so well into genuine empathy for her subjects, no matter how they manifest their pain. In one essay, she discusses a documentary featuring a woman named Melissa Byers at the trial of Jessie Misskelley, a teenager believed to be responsible for the murder of her young son. Jamison reports, "As Melissa is leaving the courtroom one day, she calls out: 'Jessie sweetie!' Her falsetto presumably imitates the voice of the man she hopes will rape him [in prison]. She turns to the camera: 'I'm going to mail him a skirt.'" Jamison goes on to write, "She is performing her grief for a set of cameras that won't stop following her around, and her performance can make it hard to believe that an actual grief is dwelling underneath. But it is. Some part of me wants to get angry at her, and I sense that the filmmakers want to grant this anger space. Another part of me remembers: her son died. This is probably the only certain fact for miles. There's also this: Melissa Byers is most likely a woman who felt invisible and disrespected all her life. The world never cared about anything she had to say. Now, all of a sudden, it does."
In an interview with the Paris Review, Jamison has said that she doesn't know what teaches empathy (though she does goes on to answer the question in different ways at greater length, admirably resisting oversimplifying). And as she presents in the title essay, there's an immense difference between saying the right words to get credit on an empathy exam and becoming a doctor who administers genuine care. Empathy isn't a scripted series of steps. Nevertheless, throughout the book and right down to the sentence level, Jamison models qualities that make empathy possible: vulnerability, humility, and a sense of humor – though you never get the sense that she's making something into a joke. Rather, she's seeing the inherent humor in a situation, however grim – as in "The Immortal Horizon", where the litany of her brother's preparations for the brutal Barkley marathon is perfectly poised between funny and serious: "He needs a compass. He needs pain pills and No-Doze pills and electrolyte pills and ginger chews… He needs tape for when his toenails start falling off."
But above all, Jamison does make it clear that empathy is a choice. It's a choice to listen, to be present, and to care for others even when we don't feel like it. She explains, "This doesn't make our caring unauthentic or hollow. The act of choosing simply means we've committed ourselves to a set of behaviors greater than the sum of our individual inclinations."
She goes on to write, "This confession of effort chafes against the notion that empathy should always rise unbidden, that genuine means the same thing as unwilled, that intentionality is the enemy of love. But I believe in intention and I believe in work. I believe in waking up in the middle of the night and packing our bags and leaving our worst selves for our better ones."
*
I want to highlight the closing essay, "Grand Unified Theory of Female Pain" , which gets something I think most of us would recognize, even if we've struggled to articulate it. Jamison calls it being "post-wounded":
"Now we have a TV show called Girls, about girls who hurt but constantly disclaim their hurting. They fight about rent and boys and betrayal, stolen yogurt and the ways self-pity structures their lives. 'You're a big, ugly wound!' one yells. The other yells back: 'No, you're the wound!' And so they volley, back and forth: You're the wound; you're the wound. They know women like to claim monopolies on woundedness, and they call each other out on it.
"These girls aren't wounded so much as post-wounded, and I see their sisters everywhere. They're over it. I am not a melodramatic person. God help the woman who is. What I'll call 'post-wounded' isn't a shift in deep feeling (we understand these women still hurt) but a shift away from wounded affect – these women are aware that 'woundedness' is overdone or overrated. They are wary of melodrama so they stay numb or clever instead… Post-wounded women fuck men who don't love them and then they feel mildly sad about it, or just blasé about it, more than anything they refuse to care about it, refuse to hurt about it – or else they are endlessly self-aware about the posture they have adopted if they allow themselves this hurting."
The post-wounded woman is anxious not to be thought of as the Girl Who Cried Pain – even when her pain is real.
Jamison acknowledges that in our present culture, there is a danger of that merely invoking wounded womanhood "will corroborate a pain cult that keeps legitimating, almost legislating, more of itself." So her essay is not a mere validation of pain, but a diagnosis. The cure for a post-wounded mentality involves acknowledging suffering while holding out hope for healing – feeling both at the same time, dismissing neither. She closes with a call to action and to effort: "Pain that gets performed is still pain. Pain turned trite is still pain. I think the charges of cliché and performance offer our closed hearts too many alibis, and I want our hearts to be open."
*
Where does empathy begin? The book cover features a scientific drawing of a human heart, and it opens with an epigraph from Terence's The Self-Tormentor, "I am human: nothing human is alien to me." But 'human' could be defined in as many ways as there are human hearts.
Jamison's discussion of hearts makes me think of one of Paul's metaphors: that followers of Christ are a single body made up of different parts. In his letter to the fractious church in Corinth, Paul writes,
"The eye cannot say to the hand, 'I don't need you!' And the head cannot say to the feet, 'I don't need you!' On the contrary, those parts of the body that seem to be weaker are indispensable, and the parts that we think are less honorable we treat with special honor… But God has put the body together, giving greater honor to the parts that lacked it, so that there should be no division in the body, but that its parts should have equal concern for each other. If one part suffers, every part suffers with it; if one part is honored, every part rejoices with it."
As a Christian, my understanding of what it means to be human comes from my understanding of who God is. And I finished The Empathy Exams with a better appreciation of how God made the effortful choice to dwell among us in the person of Jesus Christ, fully human and fully divine. I read of his life, death, and resurrection in Hebrews 4:14-16 with a greater understanding of God's empathy for humanity, and its implications for how I should live: "For we do not have a high priest who is unable to empathize with our weaknesses, but we have one who has been tempted in every way, just as we are—yet he did not sin. Let us then approach God's throne of grace with confidence, so that we may receive mercy and find grace to help us in our time of need."
Jamison's extraordinary empathy made me realize that the ways I care for others have been small, shallow, and timid: but I can choose to make them bigger and braver. And I do so believing that my lone human heart belongs to a greater whole, joined in love by a God who makes even healing and forgiveness possible.
*
Further reading, though I highly recommend getting the book so you'll encounter the essays in order and as a collective whole:
Essays:
Interviews: