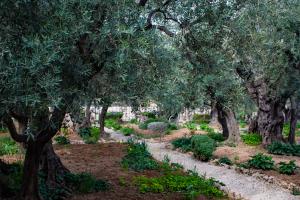 As we enter into Holy Week, I am struck by the image of Jesus in the Garden of Gethsemane. He knows what is being asked of him, and he doesn't want to do it. He sees exactly what is coming, yet he prays:
"My Father, if it is possible, let this cup pass from me; yet, not as I will, but as you will."
If it is possible. It's a strange prayer for Jesus to pray. He knows it's not possible. His entire mission on Earth has led to this moment. Yet he prays for release. Why? Like every one of Jesus' prayers to the Father, this is a teaching moment for us. Jesus prays so that we will know how to pray. And the message is clear: whatever our petitions to God, let them depend on His will. Bring your desires to the Lord, Jesus says, no matter how impossible they may seem. But know that true peace comes by aligning your will to His.
Learning to Pray Like Jesus
This is not the Holy Week any of us wanted. In all of my life, I never imagined Churches being closed on Easter Sunday, the holiest day of the year. I'm struggling to imagine what Sunday will look like without the long, slow, Easter brunch. Without Easter egg hunts in the park. Without family.
It's comforting to know that, like Jesus, I can still pray for change. But my prayer is more about raw honesty than a genuine hope that the situation will change. I know that it will not change and that we are all being called to make sacrifices. But because of Jesus' prayer in the garden, I know that I can bring my pain to the God.
"My Father, if it is possible, let this cup pass from me; yet, not as I will, but as you will."
God's Will for Holy Week
In her Memento Mori Lenten Devotional, Sr. Theresa Aletheia writes that even important aspects of religious practice can become idols when they are put ahead of God's will. "Following Jesus is all or nothing. Family cannot come first. Country cannot come first. Even aspects of the faith cannot come first. Jesus must come first" (176). I have always believed that Easter Sunday Mass was a non-negotiable aspect of Catholic life. But, God teaches us that his will transcends even this. It is an eternal will, and our only choice is to follow.
"My Father, if it is possible, let this cup pass from me; yet, not as I will, but as you will."
The Resurrection Comes
For many of us, life after Holy Week is just as uncertain. I will have to find a new day job; I'm far from the only one in that category. We will all have to grapple with grief, instability, and loss. Indeed, some of us will be meeting God face-t0-face. For those of us left behind, we will have to put the pieces back together. But the Churches will reopen. We will see loved ones again and walk in the parks. Maybe we will hide eggs just for the fun of it.
We will support each other and love each other. We will come to know God's will.