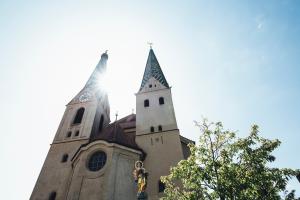 The COVID-19 crisis has cut a lot of things short. Vacations, weddings and reunions have been postponed. My nannying job ended abruptly when the family went to Florida for what we thought would be a couple weeks. My lease expires in late August, and my husband and I will be moving to Brooklyn. This means leaving behind my local parish just as it was starting to feel like home. Now, as we stream our Sunday masses on Facebook Live, I wonder if I'll have the chance to say goodbye.
The Wandering Catholic
When I first moved to New York, I was a proud mass hopper. I thought that finding a parish that "spoke" to me was part of my responsibility as a Catholic. I thought it would wake up my spiritual life and help me establish a community in the city. I found a progressive Jesuit apostolate off Union Square that fit the bill, joined the young adults group, and did in fact make some connections. That worked for a while. But the thing about living in New York is you move a lot. Once I was forty-five minutes out in Brooklyn, attending masses as "my" parish became impossible. I didn't understand why attending my local parish mattered. I thought I was doing better by "thinking about it." Really, I had become a parish snob and, as a result, was spiritually homeless.
What's in a Parish?
I started attending Saint Joseph of Yorkville when I moved to the Upper East Side, temporarily of course, mostly because it was convenient. I didn't expect to connect with a neighborhood church. But something there drew me. The pastor is known for his extremely brief yet extremely poignant homilies. (He's also a tiny bit famous, but that's beside the point here.) There's a reverence there which has caught me off guard on more than one occasion. Once, a woman behind me burst into tears of joy and pride simply because her child was carrying up the gifts. The servers always know what they're doing. On several occasions, I've seen congregants kneel before the Eucharist.
This is no rigid, formal, Latin Mass parish. This is a local church. I'm the only person who wears a mantilla. Father regularly calls children up to sit on the alter during consecration. Once, a little boy took off running, his embarrassed mother chasing him for several laps around the sacristy. But no one asked her to leave; this isn't that kind of place. It's the kind of place where people seem to genuinely believe in God and in the sacrament. It's a place where families bring their children to mass every Sunday because they want to, not just out of habit. Even the middle-school lectors have an air of reverence about them I haven't seen elsewhere. I honestly don't know what's happening at this parish. I only know that it's special. And now I'm leaving forever.
Learning to Say Goodbye
Because of the pandemic, my husband and I are watching Sunday mass from our living rooms. If we wanted, we could watch any mass in the world. But we've been choosing to watch Saint Joseph. It just feels right. It also feels more bittersweet with every passing week. We don't know if we will be able to attend in person before we leave. The thought of just disappearing, without having said a thing, fills me with profound sadness.
On Easter Sunday, we ran into our pastor on a walk. "It's a lovely day for a mantilla!" he sang out, noticing me before I noticed him. (The enigma of a progressive young woman like me choosing to veil continues to amuse him.) He asked me how I was doing and I told him, honestly, that I felt sad. He said that made sense. He reminded me that the church is still open, and that I can go there any time. I haven't yet. I think I'm avoiding it. Because I know that the next time I see him I will have to tell him I'm leaving. It's not that we're particularly close, and I'm sure he's seen many parishioners come and go. It's that once I tell him, it will be real. And I've really liked it here.
Learning to Plant Roots
My husband and I have finally decided to plant roots. We've put an offer in on a real home in Brooklyn. If everything works out, we'll be moving to a building that shares a parking lot with the local parish, Saint Patrick's. There's a school and families and a yearly parish festival. I also know it isn't the same as the place I've come to love – no two places are the same. But I'm not going to shop around until I find the "perfect" parish that mirrors my political leanings, or whose pastor says only what I like to hear, or where the children are perfectly behaved. I'm going to attend church in my community. Because a parish is about community, about being a part of your neighborhood, about being a neighbor in the Christian sense of the word.
A parish is part of the fabric of your daily life. It's running into your pastor on the sidewalk. He knows you, and you know him. It's where you live, who you live with, and how you live. It's a perfectly imperfect place to share and worship. It's your home.