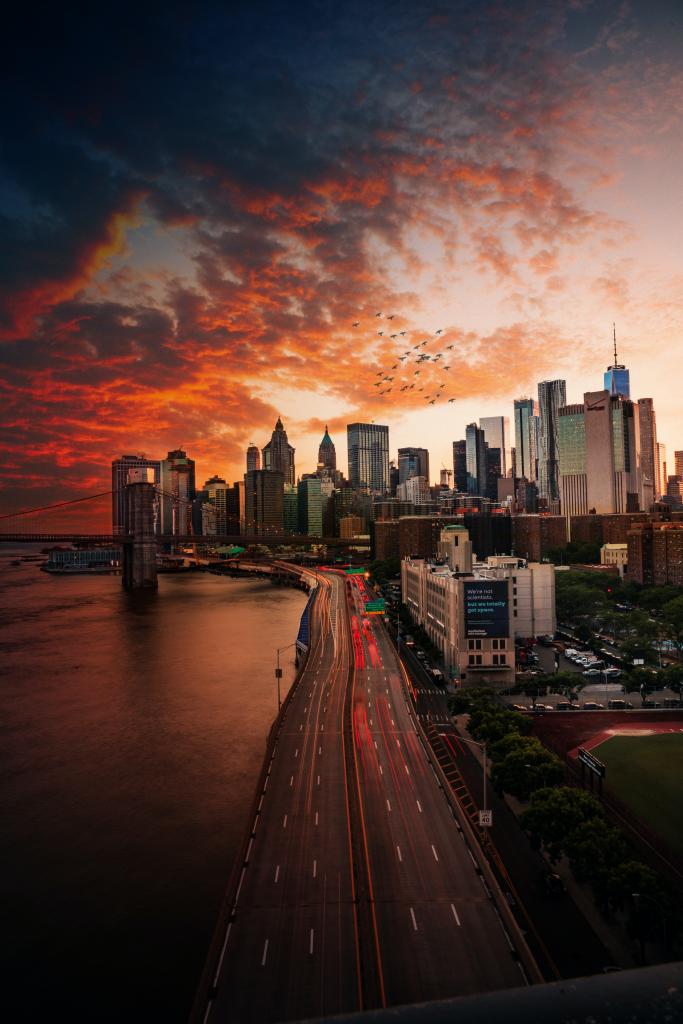 New York City isn't dead, and anyone who says it is can go back to Ohio. (I am originally from Ohio, so I can say this.) I'll see you in five years when you call me up to crash at my place. If you're the type of person who hates listening to how much New Yorkers love New York please stop reading this now. Because I'm having a bit of a moment.
In case you haven't heard, we (as in the world) are in the midst of a global pandemic. It hit New York City particularly hard a couple months ago. Restaurants closed, many of them for good. Broadway closed. Off-Broadway closed. The bars and speakeasies closed. And lots and lots of rich people abandoned ship. They went to The Hamptons and Florida and to their parents' houses in Ohio. Meanwhile, a lot of us stayed here and stubbornly refused to go to our parents' houses in Ohio. (Sorry Mom and Dad. Still love you.) Meanwhile meanwhile, the country entered into a moment of racial reckoning and civil unrest that also hit New York. So a lot of white people got really nervous. And they abandoned ship for the Hamptons and Florida… you get the idea. And now those people are sitting in their beach houses or their parents' houses in Ohio and declaring New York City dead forever.
This is Patheos, so I can't use the words I really want to use, but they can all frick off.
What's there to Love?
I know a lot of people think New Yorkers are crazy. I get it. You like space, you like affordable houses with two-car garages and yards. You like peace. That's great for you. I like noise and the crush of humanity and the energy of the city. Museums and art and history and nightlife; all things that have been temporarily suspended but can absolutely never happen virtually. I also happen to love theater, which is why I'm here in the first place. That, and I married a native New Yorker who made me agree prior to marriage that we would never live anywhere else. (I was happy to comply, don't worry.) But you can't do theater virtually. Trust me, I've tried.
In his now infamous op-ed, James Altucher, owner of the comedy club Standup NYC and noted bitcoin enthusiast, said there was no way the museums and theaters could ever afford to reopen. I'm not sure if Altucher realizes this, but the Metropolitan Museum of Art has an entire Egyptian temple inside it. Does he think that's just heading into permanent storage? Does he really think the 41 Broadway theaters are going to sit empty forever, becoming spooky fodder for adventure photographers? Honestly. This isn't even New York's first pandemic. It's definitely not our first mass protest. And don't get me started on tragedy. It's insulting.
If You Love New York, Just Stay Here
My husband and I are buying a two bedroom apartment in Brooklyn. Since we've announced our decision, friends and family have begged us to reconsider. I receive multiple emails a day predicting financial ruin for New York, laying out the supposed End Times. I've had uncomfortable conversations with loved ones who have left and don't want to come back until they are certain that everything is fine again. But here's the thing: if you really love New York, you should stay here. If you don't love New York, that's fine. Come back later I guess. But recovery is predicated on people being here, spending their money here, putting down roots here. New York has always been a transient city. Lots of people come for a few years to party when they are young then move back to Ohio. I get that those people don't see the appeal right now. But they were never going to stay here anyway. For those of us who consider New York City home, that's not an option.
How Long Will New York City Live?
Last week, my blog post was a meditation of death and the afterlife. This has obviously been rather different. But on a certain level, there is a question of mortality here. Nothing lasts forever. Our planet is going to eventually be enveloped by the sun. So how long with New York City live? I have no freaking clue. But it will certainly outlive me, and that's fantastic. I can easily imagine a scenario where New York outlives the United States. It's not uncommon for great cities to outlive their countries. By great city standards, New York is relatively young. I'm especially not worried about remote work or broadband, of all things, being the downfall of urban living. As long as human beings are a social species, some of us will be crazy enough to want to live in cities.
To Mr. Altucher I say:
I'm really sorry that your three favorite restaurants are closed permanently. That majorly sucks. Also, it happens all the time in New York. In the words of Jerry Seinfeld, "Wipe your tears, wipe your butt and pull it together."