Raising healthy girls and successful young women means not just instilling strong faith, but giving them faith in themselves.
—–
Musicals have a tradition of being, at heart, love stories. A show's energy is generated not only by rousing music, but by the audience anxiously rooting for the damsel to escape the clutches of the villain (whatever form that takes), for the star-crossed lovers to defeat the odds and stroll off into the sunset. Rarely disappointing, in an upbeat finale, the hero wins the day and "gets the girl."
But in a new musical coming soon to Broadway, the hero is the girl. And the audience is desperately rooting for her to end up alone.
Chix 6 is a rock musical in the vein of Rent and Spring Awakening, yet totally unique in its message that cultivates self-worth and empowerment for girls and young women. When I attended a recent reading of the show, I was struck first by the incredible voices of the performers belting out some of the most memorable songs I have heard from the stage in years. But as the fast-paced storyline unfolded, I felt slightly self-conscious at how much it resonated with moments in my own past, the experiences of friends. This story was unabashedly about classic social-norm struggles that affect young women's lives and keep us from becoming all we were meant to be.
The main character, Katie, makes herself seem simpler and smaller than she is, hiding her strengths and accomplishments so that her boyfriend doesn't feel threatened and leave her. She silently lets things roll off her back that hurt her deeply, keeping a smile and a witty joke at the ready. She lacks confidence in her worth, and so lets the guy get away with criticizing her body and lying to her about where he goes and what he does. She feels that her talents and abilities do not mean much, are not important to the world, and so she is overpowered by his ambitions and plans, forsaking herself on many levels to support his dreams. Any of that sound remotely familiar?

Enter a colorfully diverse group of six uproariously smart super-heroines who represent the qualities every woman has within her, if only she has the will to resist intimidation and the self-awareness to cultivate them. Mama-Mazing is a full-figured diva who loves her body and represents Confidence. Blaze is a punk rocker with a fiery mohawk who torches intolerance, sexism and negativity and represents Freedom. Sassy Seven sports a pink beehive and magical cat-eye glasses that reveal the reality behind what people say and represents Truth. Lola Touche is a steam punk secret agent who acrobatically flies and spies from a birds-eye view, representing Perspective. Rise is a space-age nerd armed with magical gadgets and an electric violin that shoots out stunning sound waves and represents Expression. Then there is Lightening Girl who wields bolts and has the powers of the other five all rolled into one. These are the Chix 6.
The heroines are actually powerful characters that Katie herself has created; her drawing is a form of therapy that helps her process her experiences and decisions. A talented artist, for 10 years Katie has been hiding the fact that she is the anonymous creator of a wildly popular comic book called Lightening Girl. While the public and media clamor to know who the creator is — who would immediately be launched to stardom and wealth — self-effacing Katie puts all her energy behind helping her self-centered rocker boyfriend, who is desperately trying to break into fame and fortune (in all the sketchiest ways). We watch Katie face all the tricky nuances of the male-oriented universe, including when the boyfriend writes a "romantic" song for her about her potential that convinces her she wants to be "held while flying" — a not-so-subtle cue that he will keep tight reign on her in the guise of love and affection as she tries to take to the skies with her talent and charisma. When he breaks up with her, she feels lost, alone and unsure of herself. The Chix 6 come alive and take Katie on a journey to understand who she really is, and what she must do to fulfill her destiny. The beauty of it is, no one is swooping in to rescue her. Everything Katie needs to find herself, rise above and succeed comes from within her own heart and mind. Her journey becomes a matter of faith.
After decades of sitting in the seats absorbing theatrical plot lines that are generally propelled by male-lead experience and perspective — including the stories of the female characters — it was strikingly different to watch this very common thread for women unspool on stage. Even as a feminist who advocates for female-driven stories to be told more universally, my initial reaction was, 'can you actually do this?' It was telling to me that watching a female-dominated storyline that is so honest and upfront about this most basic female condition — and finds it important to talk and teach about, and worthy enough to raise up into song on the Broadway stage — took some adjusting to accept. An adjustment our culture desperately needs.
Demanding and understanding that we can do this is a victory of the perseverance and vision of one woman who has come into her own and is ready to use her talent to change the world. Lourds Lane, Indie sensation and front of the rock band LOURDS, is the creator and writer of the book, music and lyrics for Chix 6. She began training on violin and piano at age 3, played Carnegie Hall at 6, and toured with orchestras around the world throughout her youth. She graduated Harvard with honors in English and American Literature, the youngest in her class. She is the creator of the Medusa Festival, an annual event featuring the best emerging female-fronted bands in the country.
Yet Chix 6 is not just a musical for a female audience. The music is edgy and unforgettable. The style of the production, sparkling with outrageous costumes, multimedia animation wizardry and high-flying feats a la Cirque du Soleil, will enthrall the toughest musical connoisseur. But a deeper transformation is at the heart of Chix 6, one that the guys who have identified with characters from Jimmy Winter to Spiderman will also appreciate. And guys and girls alike will pick up on something new to chew along the way. My bet is thatChix 6 will change the landscape of Broadway entertainment in an unprecedented way: giving import and an audience to the stories and experiences of young women.
But the catch is that women have to respond to tell a still very male-dominated industry that this is important, so we Femmevangelicals have to evangelize for Chix 6. Join the Facebook page and spread the word. Chix 6 also continues to seek strategic partners who want to be a part of building a global empowerment brand, and you can email Wendy Timmons at wtimmons@gmail.com with ideas and introductions. You can watch and share this :30 teaser:
Yes, people crowd into musicals for the sound and spectacle, but also because they are notoriously uplifting and romantic. But finally, there is a show coming that dares to add a twist of reality, narrating how tough it really is for a young woman to go against the grain and rise above the elements of our society's set of expectations that often work so hard to hold her down. Finally, there is a happy ending that shows girls how to fall in love with themselves.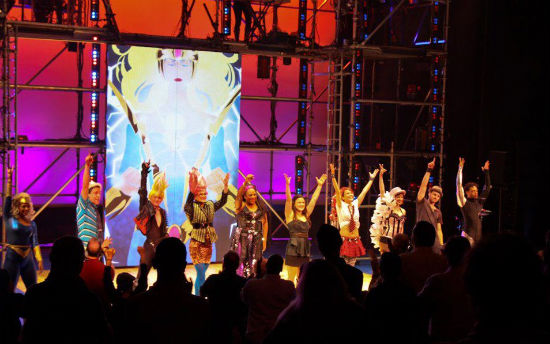 This article was originally published in Huffington Post Arts & Entertainment.
Follow Jennifer Danielle Crumpton on Twitter @JenniDCrumpton or www.twitter.com/JenniDCrumpton
Join me on Facebook at Facebook.com/Femmevangelical and check out Femmevangelical.com.