Yesterday's dominating FIFA Women's World Cup victory by the U.S. Women's National Team over Japan (5-2) set a television record: It was the most-watched soccer match ever in the U.S. on a single network.
Between 21.0 million and 23.5 million viewers tuned in; the 15.2 rating is comparable to Game 7 of the World Series. It beat every game in the most recent record-setting NBA Finals on ABC, with the exception of the deciding Game 6 that pulled a 15.9 rating.
CNN's Michael Berman said his boys went outside to play soccer, shouting, "I'm Carli Lloyd!" "I'm Lauren Holiday!"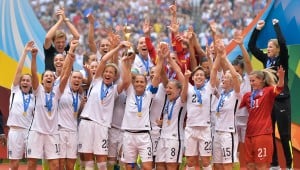 These women are not just amazing, elite athletes; they are role models who are changing what it means to be female in the United States and beyond. They demonstrated on the world stage that women are tough, heroic, dynamic, strong, motivated and capable — physically, mentally, spiritually.
They are normalizing women as truly powerful people to be looked up to — in the sexist, male-dominated frontier of sports, no less — not a 'weaker sex' to be shamed and joked about. They are allowing girls to dream bigger and believe in their strength, not hide it. They are teaching boys that girls and women are equal, to be respected and even emulated.
No other country has won the Women's World Cup three times (1991, 1999, 2015). They scored four times within the first 16 minutes of play, the fastest hat-trick in the history of the Women's World Cup.
But did you know that the winning U.S. Women's National Team is paid 40 times less than the losing men's team?
And the total payout for the women's World Cup is just $15 million compared to the men's $576 million.
In Femmevangelical: The Modern Girl's Guide to the Good News, I challenge that the scourge of gender-biased, unequal pay in America (and other parts of the world) got its start with religious tradition, and is a violation of rights that Christian women must faithfully protest today. The ancient and wrong-headed biblical, doctrinal and hierarchical ideology that women are secondary and were made "less-than" by God still costs us today, in so many ways. We are seeing it happen to our World Cup heroes right this minute.
Our society has long been patriarchalized and socialized to believe what women do is less exciting, less important, and less real than what men do. Which is why the #USWNT has a hashtag called #SheBelieves.
What an embarrassment and terrible, hypocritical example by FIFA, with the eyes of the word on us today. Women are much more likely to live in poverty in the U.S. and around the world, and even when we work and fight to rise above all the many challenges and roadblocks to shine at the very top, we still aren't paid fairly.
Catalyst studies show that when women have equal employment opportunities, wages, and social support, it powerfully benefits families, businesses, communities, and societies. When women are educated, paid well, and have meaningful, stable work, the result is that families, economies and communities thrive. This is not just a "women's issue," it is a human rights issue and a global economic issue…

If we will envision and respond to a new way, it will bring a better reality for all of us. Our most intractable dilemmas stem from the entrenched doctrine that male-dominant religion and government are ordained to run and regulate the very person — body, mind, and spirit — of women. Only a society that treats women as valuable, trustworthy, productive, and competent human beings made equal and the in the image of God will ever rise to solve its most profound problems.
— from Femmevangelical: The Modern Girl's Guide to the Good News, Chapter 4, "Truth and Other Lies"