A rheumatologist at a workshop at the Cleveland Clinic spoke of a twenty-one-year-old woman she was treating who was dying of cancer. The medical team caring for her was running out of treatment options and the sight of this young woman withering was weighing on everyone.
On a sun-filled September day near the end, the young woman was curled in her bed in a fetal position, her family around her, the blinds closed, the room dark and silent. Entering the room, her doctor felt their despair. She could see her patient staring into all the years she wouldn't have. It was heartbreaking. Moved beyond all the standard protocols, her doctor felt compelled to climb in bed and hold her. This unexpected, quietly heroic offering broke death's hold, for a long moment, and brought everyone closer.
After a time, the young woman sat up and asked for the blinds to be lifted. Light came flooding in, and her family began to speak and listen. They brought her juice. They all began to live again.
For all our skills, for all our training, and for all the miraculous advances in medicine, we caregivers are left, finally, with what we're born with, the capacity to hold. When leading with our heart, we can mitigate the pain and despair that the sharpness of life can render, if we softly dare to get as close as we can and simply hold.
Of course, this moment of grace and connection did not prevent the young woman from dying. But it powerfully affirms the power of holding. To hold another is the oldest form of heart-to-heart resuscitation. It can change how we live before we die. Holding someone in his or her pain or despair can allow the life-force to return. It can let light back into the room. And letting light back in, though it might not cure us or keep us from dying, is at the heart of all healing.
A Question to Walk With: Describe a time when you were unexpectedly held.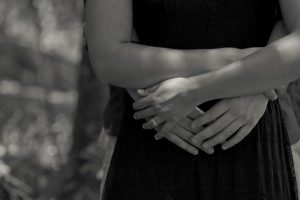 Next month, Atria will publish my new book, The One Life We're Given. To make the most of being here, we're required to learn when to try and when to let go. This is our initiation into grace. The gift and practice of being human centers on the effort to restore what matters and, when in trouble, to make good use of our heart. No one quite knows how to do this, but learn it we must. There is no other way. By fully living the one life we're given, we're led to the wisdom that waits in our heart. "The Power of Holding" is an excerpt from the book.