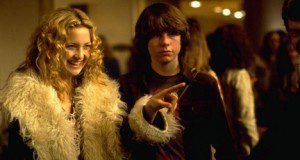 Cameron Crowe is adept at making popular films that resonate on deep personal and emotional levels, such as Say Anything… and Jerry Maguire. Almost Famous, the semi-autobiographical tale of a 15-year-old music journalist who follows an early-1970s rock'n'roll band around the United States while researching his first story for Rolling Stone magazine, had the potential to be Crowe's most personal movie yet. But Crowe apparently decided this story hit too close to home, and thus refused to put his characters through the emotional wringer that made his other films work as well as they did.
The prevailing spirit of this film is best summed up by a word of advice that Penny Lane (Kate Hudson), a beautiful teen-aged groupie — she prefers the term "Band Aide" — gives to William Miller (Patrick Fugit), the young reporter in question. Don't take things too seriously, she tells him. That way, nobody gets hurt. And if nobody gets hurt, then you can have fun.
Though it could have been more, Almost Famous is definitely a fun movie, full of wide-eyed wonder at the world of make-believe that is rock music, both behind the scenes and in front of the audience. It also brims with canny observations about the tricky relationship between musicians and the writers who cover them. Several people in this film say they are searching for something "real", but William's presence compels the musicians he meets to put on an act, even when he doesn't have his notepad or tape recorder with him. "Look at him," says one guitarist, "he's taking notes with his eyes."
The fictitious group that William tours with is called Stillwater, and their music — composed and performed by Peter Frampton, Nancy Wilson and Pearl Jam's Mark McCready — is, thankfully, just what you'd expect to hear from a modestly successful band of that era. The members of the band indulge in the usual backstage bickering, notably when a box of T-shirts shows up and it turns out that lead guitarist Russell Hammond (Billy Crudup) — the one member with real talent — is the only one in focus. "I'm the front man, you're the guitarist with mystique!" says outraged vocalist Jeff Bebe (Jason Lee, an impressive scene-stealer). "That's the dynamic we agreed on!"
Several people offer William their counsel as he follows the band and tries, unsuccessfully, to snag an interview with Russell. Lester Bangs, the self-professed "uncool" writer for
Creem
, tells William to be "honest and unmerciful." The groupies, who go by names like Sapphire (Fairuza Balk) and Polexia (Anna Paquin), fill William in on some of the more delicate aspects of backstage sexual politics. And William's obsessively worried mother Elaine (an excellent Frances McDormand) makes frequent phone calls to check up on him, often "freaking out" those non-relatives who dare to answer the phone.
The heart of the film is a love triangle between William, Russell, and Penny, who refuses to tell anyone her real name. In Jerry Maguire, Crowe asked whether it is possible for agents and athletes — or, for that matter, husbands and wives — to look beyond their roles and connect to each other on some deeper, more spiritual level. In Almost Famous, he asks the same question of musicians, reporters, and groupies, but these characters don't have much soul to bare. Nearly every time an intimate moment presents itself, someone cracks a sitcom-worthy punchline, or a pop song comes up on the soundtrack and distracts us from the task of getting to know just who these people are.
There is a minor breakthrough in the film's third act. Russell, knowing that his wife is about to join the Stillwater tour, trades Penny with another band, over a card game, for fifty bucks and a case of beer. Penny is not in the room when the trade takes place, and William, incensed that Russell would treat her this way, is the one who breaks the news to her. In a clip that you just know they'll be showing at the Oscars, Penny sheds a tear, smiles bravely, and asks, "What kind of beer?" It's the sort of bittersweet moment that Crowe excels at. If only the rest of the film had enough substance to back it up.
3.5 stars (out of 5)
— A version of this review was first published in the Vancouver Courier.