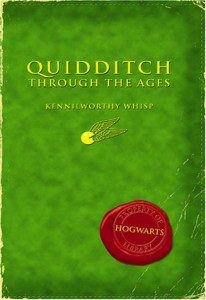 Quidditch Through the Ages / Fantastic Beasts & Where to Find Them
J.K. Rowling
Raincoast Books
To the great disappointment of her many young fans, J.K. Rowling has admitted that there will be no new Harry Potter novels this year. Between consulting on the movie version of her first book, due later this year, and promoting her last book, the massive Harry Potter and the Goblet of Fire, she just hasn't had time to finish the next installment.
But to keep her readers happy, Rowling has turned out two quickies, a pair of tiny books that are, supposedly, replicas of texts used by the students at Hogwarts School of Witchcraft and Wizardry. And while Quidditch Through the Ages and Fantastic Beasts & Where to Find Them obviously aren't as exciting as a new story would be, these books do exhibit the same black humour and cheerful absurdism that make the original novels so much fun to read. They also provide an intriguing glimpse into the history and politics of the wizarding world.
Quidditch Through the Ages, supposedly written by Kennilworthy Whisp, is perhaps the more readable book, since it deals with a subject that is central to the Potter stories. It begins by outlining the evolution of the sport, going back to the frequently fatal broomstick games of medieval times. Among other things, we learn that the Golden Snitch, a small, winged ball that a player must catch in order to end a game of Quidditch, is a carry-over from the days when wizards hunted snidgets, a species of small bird, almost to extinction. We also learn that Bludgers, magic iron balls which players swat at each other, used to be simple rocks, but the rocks had to be abandoned because they often shattered, "in which case all players would be pursued by flying gravel for the remainder of the game."
The book goes on to list the rules of the game, the most popular maneuvers, and the teams that play Quidditch all over the world (including Canada's own Moose Jaw Meteorites). In a cute nod to real-world cultural differences, the book claims that Quidditch has never really caught on in America, where a variation known as Quodpot is all the rage, and the sport remains obscure in Asia, where flying carpets and not broomsticks are the preferred mode of travel. The one exception is Japan, where the players have a habit of ceremonially setting fire to their brooms in cases of defeat.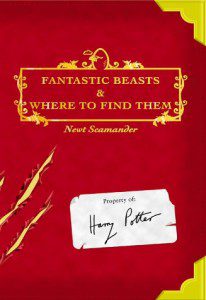 Fantasic Beasts & Where to Find Them, allegedly written by Newt Scamander, is a little less interesting, since it mostly rattles off a list of creatures and their characteristics, only some of which are amusing. But it begins with a fascinating account of how wizards and witches over the years have debated the distinction between "beings" (that is, creatures which have legal rights in the wizarding world) and "beasts." Centaurs and merpeople, who tend to be more isolationist as a rule, asked not to be included among the "beings" when they learned it would mean being lumped in with hags and vampires. And then there is the thorny problem of werewolves, who are usually human, but turn into beasts for a short time each month.
Passages like this may tickle the funny bone, but they also serve an educational purpose. Many have praised the Potter books for inspiring children to read, but even more importantly, they encourage children to think about complex issues and to listen to other people's stories. In a world as increasingly complicated and confusing as our own, these are skills worth learning.
And it's always good to get tips on your Quidditch playing, too.
— A version of this review first appeared in The Vancouver Courier.