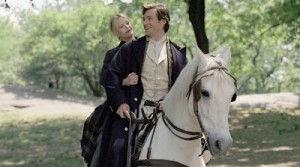 In her latest romantic comedy Kate & Leopold, Meg Ryan plays Kate McKay, a driven marketing executive with no love life who spends all her time looking for ways to sell things, from creamy butter to motion pictures. The first time we see her — well, sort of the first time we see her, but more on that below — she is at a test screening for a ridiculously saccharine movie bearing the all-too-obvious title Love For Sale. At one point, Kate argues with the film's producers over changes to the story that could help it to sell more tickets, and when the director asks if her formulaic suggestions bear any resemblance to her own real life, she protests, "I'm not the protagonist in a major motion picture!" But of course, Kate is the protagonist in Kate & Leopold, and despite some quirky story ideas, this film is ultimately as predictable and calculating as any of the movies she may have marketed.
The quirky premise behind this film is that the doggedly business-minded Kate finds true love when Leopold (Hugh Jackman), an aristocrat from the 19th century, pops up in modern New York and introduces her to a more cultivated and chivalrous way of thinking. The film actually begins in 1876, as Leopold attends the dedication ceremony for the towers of the Brooklyn Bridge, which is still, at that point, a work in progress. Looking over his shoulder, Leopold spots a man with a tiny camera who snickers every time the speaker refers to the bridge's towers as "erections". Leopold does not know it yet, but this man is his great-great-grandson, an amateur scientist named Stuart (Liev Schreiber) who has found a "crack in time" that can shuttle him between 1876 and 2001. Later, as the cash-strapped Leopold reluctantly prepares to choose a bride — ideally, a wealthy one — from among the eligible women who attend a ball at his uncle's house, he spots Stuart again, and pursues him out of the house and all the way to the "crack in time", through which he finds himself in modern Manhattan.
This leads to the usual fish-out-of-water gags. Leopold is as bewildered by rock music and street traffic as any time-travelling crew member on Star Trek, but he is also delighted to see that the Brooklyn Bridge still stands and that people still know the music of Gilbert & Sullivan. Stuart takes Leopold home to his apartment, which happens to be right above Kate's, and when Stuart — who also happens to be Kate's ex-boyfriend — is hospitalized following a bizarre elevator-shaft accident, Leopold spends time with Kate and exposes her to the ways of gentility. He stands when she leaves the table, he offers to chaperone her when she goes out for dinner with her lecherous boss, and he even gets her purse back, after it has been snatched, by pursuing the thief on horseback. (Those horse-and-buggy tour guides will lend their animals to anyone!) He also befriends Kate's brother Charlie (Breckin Meyer), an actor who thinks Leopold is just a fellow thespian who is very, very intent on staying in character.
Jackman, who tested the romantic waters opposite Ashley Judd in
Someone Like You
, is charismatic enough in a role that, while formal, is never stiff; whenever Leopold talks about the way things are done where
he
comes from, it's clear he's just giving voice to what seems to him like common sense, though his words (written by director James Mangold and Steven Roger) may sound noble and exotic to modern ears. But the romance ultimately rings false, especially when Kate contemplates going back in time to the 19th century herself, a plot twist that is given away quite early in the film, when we spot her in the crowd at Leopold's uncle's house. (The less said about the film's
Back to the Future
-like inconsistencies with regard to the effects of time travel, the better.)
Kate & Leopold
caters to a modern nostalgia for the good old days, and while it does critique the commodification of the past somewhat (especially when Leopold consents to appear in one of Kate's commercials), the film ultimately falls prey to it, too. There is no recognition in the film that Kate and Leopold are separated not only by time but by class, and that Kate, if she does go back, will be entering a world in which the rules of civilization may be even more strict for women than they are for men. But this, as Kate herself would remind us, is not real life; she is only the protagonist in a major motion picture.
2.5 stars (out of 5)
— A version of this review was first published in the Vancouver Courier.