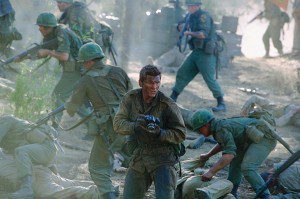 Barry Pepper is going back to the battlefield. The 32-year-old actor, who grew up in the Gulf Islands after sailing the South Seas with his family for five years, and who got his start working in Vancouver's film and TV scene, became internationally famous four years ago when Steven Spielberg cast him as a Bible-quoting sniper in Saving Private Ryan. Pepper's career since then has included some box-office hits (Enemy of the State, The Green Mile) and one huge flop (Battlefield Earth), but he bounced back with an Emmy- and Golden Globe-nominated performance as baseball great Roger Maris in 61*. Now Pepper is back on the big screen in another ultra-realistic war movie. This time, in We Were Soldiers (now playing at the Capitol Six), he plays a photojournalist named Joe Galloway, who witnesses first-hand the first major battle between American and Vietnamese troops in 1965. The film is based on a book by the real Galloway and Lt. Gen. Harold G. Moore, the commanding officer played in the film by Mel Gibson.
The film, which paints American troops in noble and courageous colours, has already been screened at the White House. It was the second time that Pepper met George W. Bush, who, being a big baseball fan, had already seen 61*. It's a long way from Pepper's childhood home on Denman Island — a place populated by hippies and artists, which his great-great-grandparents helped to settle some years ago — and Pepper acknowledges that it might seem odd for a Canadian to be associated with such patriotic American projects. But Canadians need to know a little more about their own involvement with the Vietnam War, he says.
"Unfortunately, a lot of Canadians don't know their own Vietnam history," he says in a phone interview from Toronto, where he is promoting the film. "We had 29,000 Canadians volunteer to go to Vietnam. Two hundred of them are on the Vietnam memorial wall in D.C. today, and per capita, by 1970, Canada was the number one arms dealer in the world. I think these facts are generally glossed over by the more, sort of peace-keeping face that we present to the world. If people do their research and know a little more about their history, they'll understand that this is a story that we can all identify with. Because it's not a flag-waving patriotic film as you describe it. It's a story about these young, 19-year-old kids who are not old enough to order a drink in the bar, but they're old enough to be sent 12,000 miles with a rifle to kill another man's son."
Pepper spent several weeks with the real Galloway to prepare for the role, and he says they have since become great friends. It was a "huge responsibility" to portray Galloway accurately, says Pepper. "It's extremely difficult to identify with what he experienced." Playing the part of a photojournalist in the middle of a combat zone — at one point, Galloway even picks up a rifle and fights for his survival alongside the soldiers — has also given Pepper an extra appreciation for the work being done by reporters in Afghanistan and Pakistan, several of whom have been killed, accidentally or, in the case of
Wall Street Journal
reporter Daniel Pearl, all too deliberately. "In Vietnam, 70 reporters, cameramen and photojournalists died," says Pepper. "So I can't even begin to imagine or identify with what that must be like for them. I mean, they're also heroes in this vicious game."
Pepper says it is important for people to see that war is never pretty, but he did star in one film that, one could argue, made violence look fun and adventurous. That film was the notorious flop Battlefield Earth, which, fortunately, is so closely identified with its star producer John Travolta that Pepper has escaped most of the flak. "I wouldn't really classify that as a war movie — I mean, it's a fictitious, y'know, sci-fi comedy," Pepper says. "I think when you're dealing with alien critters, that it's less of a responsibility to your audience. I mean, these are fictitious creatures that you're waging a war against, not other human beings, so I don't think it resonates on that same level.
"But I understand what you're saying. You hope — at least I do — that you can be a part of stories that engage an audience viscerally but also emotionally on an educational level. You're going to come away from that film hopefully having learned something about their history and have a possibly deeper, more profound understanding of what war is, and I believe war is essentially an admission of defeat by the countries that engage in it, where they admit they have no further form of communication, and their only solution is to send their children with weapons to kill one another. I believe it's a huge responsibility if you happen to be dealing with a subject matter like this. But with a film like Battlefield Earth, I think it's just sheer popcorn-munching entertainment. It's not to be taken that seriously."
— A version of this article was first published in the Vancouver Courier.