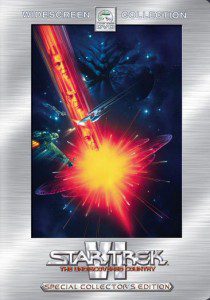 Wow, these discs just keep getting cheaper and cheaper. Two years, two months and a few weeks ago, I picked up the then-new two-disc Star Trek: The Motion Picture set for about CDN$32, after tax. Since then, Paramount has been re-issuing the subsequent Star Trek films as two-disc sets packed with extras, at a pace of one every several months, and today, I picked up the two-disc Star Trek VI: The Undiscovered Country set for about CDN$16.
First, I must gripe about the packaging. All the other films were released in black plastic cases, and indeed, if you get the new six-movie original-cast boxed set, all the discs come in black plastic cases. But if you buy ST6:TUC on its own, it comes in a white plastic case. Huh? Second, there is no booklet, at least not in my copy. Third, they are less than forthright about the fact that this film has been tweaked since the last time it was released.
Let me back up a bit here. The two-disc sets for ST:TMP and ST2:TWOK were both called "director's editions" because they made slight changes to the films in question. The first film, released in 1979, was expanded for TV a year or two later, and the DVD released in 2001 was a completely new cut that used most (but not all) of the theatrical footage and some (but not all) of the TV footage, and which nicely re-vamped some of the special-effects shots; for completists like me, the original effects shots and the bits that were cut out altogether, from both the original film and the expanded TV version, were shuffled off to the bonus disc. (I would have preferred to go the seamless-branching route and be given my choice of which version of the film to watch, but hey, them's the breaks.) The second film, released in 1982, was also tweaked for TV, with a couple of essential deleted scenes restored to the film and a couple of shots replaced (e.g., a wide shot of Kirk and Saavik talking in an elevator was replaced with a series of close-ups), and the DVD released in 2002 was essentially identical to the TV version, except they went back to the wide shot of Kirk and Saavik in the elevator; this time, none of the deleted or replace footage was included on the bonus disc.
Now, all of the discs released since then, including ST6:TUC, have been referred to not as "director's editions" but as "special collector's editions", presumably because, AFAIK, there have never been more than one version each of ST3:TSFS, ST4:TVH or ST5:TFF. But ST6:TUC is different. After it was released in 1991, the studio or the director added a couple of scenes for the video release, and if the version of the film on the new DVD had been that version, I don't think they would have had to draw our attention to this fact. But the DVD actually adds and/or changes a few shots, and at least one of these changes doesn't work for me — when Spock forces a mind-meld on Valeris to learn the identities of the chief conspirators, the film now throws in a quick shot of each person as his name is mentioned, and there's a loud clanging noise on the soundtrack. I'm not sure this is necessarily a bad idea, but as executed here, it feels clumsy to me. In any case, I think further changes to the film such as this should have warranted a "director's edition" label.
Ah well, on to other things. This is almost certainly the most Canadian of the Star Trek films. Not only are regular cast members William Shatner and James Doohan back for yet another adventure, but the chief villain is played by Christopher Plummer and the wild-card character, Valeris, is played by Kim Cattrall, seen here at the mid-point in her career between Porky's and Sex in the City. There is even a fun little featurette where Shatner and Plummer look back fondly on their work together in Montreal and at Stratford, long before they were famous; at Stratford, Shatner understudied Plummer in Henry V. For these two actors, ST6:TUC was apparently a happy reunion.
The film itself has always been a bit disappointing to me. Granted, it was better than ST5:TFF, but then, that really isn't saying much. After the Shatner-directed debacle that was the fifth film, Leonard Nimoy — who had directed the third and fourth films — kind of took the reins back with the sixth film, but as executive producer rather than director. It was Nimoy's idea to make a movie mirroring the end of the Cold War, and in a way, I do see the appeal of this — not only was it a chance for Star Trek to provide "relevant" commentary on current events, it was also a chance to bridge the gap between the original series and ST:TNG, which takes place 70-odd years later at a time when a Klingon like Worf can serve on a Federation starship and nobody bats an eye. But at the same time, I don't think anyone involved in the making of this film really had a clue how to make a decent film with this idea. Nimoy's bright idea was to hire Nicholas Meyer, who directed ST2:TWOK (the best of all Trek films) and co-wrote ST4:TVH (the most popular of all Trek films), to write and direct the new film; but Meyer's previous films worked because they were very character-driven, whereas ST6:TUC, by its very nature, was going to be less about the characters and more about inter-galactic politics. The characters are dwarfed by, and secondary to, the film's larger ambitions, and I think this hurts the film.
And it sure doesn't help that Meyer's script takes some incredibly dumb shortcuts here and there to get these characters out of situations that should be far too big and complex for them to resolve. I think here of the patch that Spock sticks on Kirk's jacket so that they can trace him across the galaxy — if it's sending out a signal that strong, why don't the Klingons ever notice it? For that matter, why don't the Klingons ever strip Kirk's jacket off, when they arrest him, try him in court, and sentence him to a life imprisonment on a penal colony on an isolated planet? (As the Okudas note in their text commentary, Kirk and company actually had tracers planted under their skin in an episode of the original series — that would make more sense, though even there, I would expect the Klingons to expect that sort of thing, and to sniff it out.) I think also of the fact that Valeris actually knows the names of the chief conspirators, so all it takes is a simple mind-meld to get that information out there and to resolve the story. This film came out in theatres at almost the exact same time as Oliver Stone's JFK, and the conspiracy theories in Stone's film just made Meyer's story look even more simplistic and stupid. I mean, a relatively low-level flunky like Valeris actually know who's all pulling her strings? Get real.
Something else I have never liked much about this film is the way it de-futurizes the Star Trek world, introducing cramped military bunk beds, modern fire extinguishers, bulky hardcover books and a full-fledged kitchen to the Trek universe (food has always been synthesized by replicators on this show, though the Okudas do note that a very early episode of the original series referred to a "ship's chef"). There is even a scene of a colonel using a paper flip-chart, which Meyer says was inspired by the briefings Norman Schwarzkopf gave during the then-recent Gulf War, though it's hard to imagine a high-level officer in the 23rd century would cart around something as crudely physical and unencrypted as that.
The constant quotations in Meyer's script are another nuisance, whether he's making references to Shakespeare, Sherlock Holmes and Aldous Huxley or stealing famous lines from politicians like Hitler, Neville Chamberlain and Adlai Stevenson. A few of these, I can handle; but the film goes so overboard with this stuff, it's like watching a Tarantino flick or some other post-modern movie in which recognizing the constant allusions is more important than following the actual story. Heck, even the references to Romulan ale, Tiberian bats and the
Kobayashi Maru
feel like pomo allusions to ST2:TWOK — ST6:TUC just can't help reminding us, and often, of the earlier, better film that this director made.
(Remember how ST2:TWOK made two very important references to Charles Dickens' A Tale of Two Cities? It appears Meyer wanted to make even more literary allusions, but thankfully, the studio didn't let him. As every Trekkie knows, Meyer actually wanted to call that film "The Undiscovered Country", and in the featurettes and his commentary, he still tut-tuts the studio for giving it what he regards as an inferior title, "The Wrath of Khan". The thing is, I actually like the studio's title better than his — it's less pretentious, it clearly tells you what the film's about, it doesn't raise the bar too high, etc. The Peter Pan line at the end of ST6:TUC also happens to be how Vonda McIntyre ended her novelization of ST2:TWOK, which leads me to think that Meyer may have tried to shoehorn that into the earlier film, too.)
Another thing about this film that has never quite worked for me is the way it revolves around the theme of Kirk and company confronting their anti-Klingon prejudices. Now, I am NOT going to pull a Gene Roddenberry here and claim that the future will be free of prejudice etc. — as Nimoy himself points out when an interviewer asks him for the Vulcan view on prejudice, given that it is "illogical" etc., Spock himself was the victim of prejudice at the hands of his fellow Vulcans because he was a half-breed; that is why he moved to Starfleet in the first place! So even in Roddenberry's original TV show, there are clear signs of prejudice in the future. No, the problem for me is that I don't believe these particular characters would espouse a "Let them die!" attitude. Nicholas Meyer claims that Kirk lost his feelings of tolerance after his son was killed by a Klingon in ST3:TSFS, but he forgets that Kirk himself offered to save the Klingon captain who gave the order to kill his son! Not only that, but ST5:TFF ended on an optimistic note as Kirk invited some Klingons aboard the Enterprise to celebrate their defeat of the 'God' creature. So unless something else happened between these movies — which is possible, given that the earlier Star Trek films took place sometime around the year 2282, whereas this one takes place in 2293 — the film's very premise doesn't make all that much sense.
There's some interesting data on the Klingons here. Even though this film gives Michael Dorn a cameo as the ancestor of Worf, you cannot help but wonder to what degree the original-series cast and crew still felt that the Klingons still "belonged to them", in some sense; this film introduces details about the Klingons that, as far as I know, all other incarnations of the show have simply ignored (the colour of Klingon blood, the idea that Klingons have no tear ducts). The line about reading Shakespeare "in the original Klingon" was apparently inspired by something the Germans said about the Bard shortly before the war, but the filmmakers had difficulty translating "To be or not to be" into Klingonese. Marc Okrand, who invented most of the Klingon language and by this point had had a few movies and at least three years of ST:TNG in which to fine-tune it, had apparently decided beforehand that there was no verb "to be" in the Klingon tongue, so he had to come up with an equivalent — "to continue" was the one he settled on, IIRC. Composer Cliff Eidelman then got a choir to chant this Klingon version of "To be or not to be" in the scenes where Kirk and McCoy are taken to the prison planet. Chancellor Gorkon was inspired both by Gorbachev (note the first syllable) and by Abraham Lincoln (note the beard) — the latter of whom Meyer keeps lumping in with Gandhi and Sadat and Rabin and other "peacemakers" even though he was very much a war-time president; interestingly, Meyer notes that although Gorbachev is the only one of these characters who lived, there was an attempted coup in the Soviet Union during the making of ST6:TUC, so for a while there, they wondered if maybe the film would be even closer to current events than it was. It is also interesting that Gorkon's daughter Azetbur takes his place as head of the Klingon empire, when apparently, in ST:TNG, women are not allowed to do that. (Did ST:TNG establish that before or after this film came out, I wonder?)
Just a few other details I noted. It is kind of sad to note that, whereas the Star Trek films had once been at the cutting edge of CGI technology (Pixar's Genesis Planet demo! yippee!), by now it was lagging a few months or years behind (the morphing effect was invented for Willow in 1988 and popularized by Terminator 2 several months before this film came out; the CGI zero-gravity blood was also prefigured by the water tentacle in 1989's The Abyss). The Okudas' text commentary speculates that there might be a fourth conspirator aboard the Enterprise somewhere, since Valeris is on the bridge when the assassins beam aboard the Klingon ship (or was the transporter programmed to beam them back and forth automatically?). Meyer says Iman's line about "assuming a pleasing shape" is a "biblical" reference, but actually it is yet another Shakespeare line ("The devil hath power to assume a pleasing shape").
And lastly, it is interesting to go through the bonus features in the order that they are listed on the DVD. There is a warm tribute to DeForest Kelley, who died in 1999 and is the only original-series cast member to have passed on so far, and the next feature listed in the menu is an interview that William Shatner did on the set in 1991 — in which he talks about becoming aware of the fact that he's at that age where his friends are beginning to die. (I had heard Shatner make remarks like this in his audio commentaries for ST4:TVH and ST5:TFF, but it is interesting to see that he was thinking in those terms already even then.) (There is also an interview with James Doohan where he, alone of all the actors, refuses to accept that ST6:TUC is the last film for the original cast — no, he says, the fans will want "another one, and another one after that, too." Well, I guess he did make a brief appearance in ST:G…) Back to the Kelley tribute. I rather doubt what one friend of Kelley's says, to the effect that Roddenberry offered Kelley his choice of roles, and Kelley picked McCoy rather than Kirk or Spock because it would be the role with the most humour; it's a lovely anecdote, but isn't it mitigated by the fact that McCoy is in neither of the original series' pilots? At any rate, the glimpses we see of him in all those westerns and film noirs do have me itching now to see him in those other roles, especially one of the villainous ones.
— A version of this post was first posted to the OnFilm discussion group.