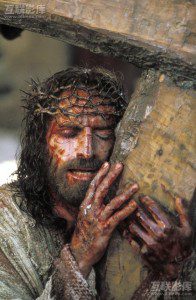 THOUSANDS of Canadian pastors and ministry leaders got a sneak preview of The Passion of the Christ last week, as Campus Crusade and several other evangelistic organizations sponsored a cross-country tour of a rough cut of Mel Gibson's graphic and controversial film about the death of Jesus.
The film was shown to an estimated 9,000 people in nine cities over six days, beginning in Halifax and ending with two screenings January 17 at Pacific Academy's Chandos Pattison Auditorium in Surrey, BC. Bob Kraemer, director of special projects for Campus Crusade, said the film was overwhelmingly accepted by the Christians who saw it.
The film shown at these screenings was not quite complete — it was missing some special effects, and it had a temporary music track that borrowed heavily from Peter Gabriel's soundtrack to The Last Temptation of Christ and the albums of Dead Can Dance — but it still had the power to move audience members to tears.
"Every place we went, there was a holy hush that came over the crowd when it was finished," said Kraemer. "It was very difficult for people to speak when it was finished. At every place there were people who couldn't handle the intensity of Jesus' suffering. We had a woman faint in Calgary — that was an interesting thing."
The screenings — sponsored by Campus Crusade with help from Outreach Canada, Alpha Canada, Focus on the Family, Christian Direction, Catholic Evangelization Training Ministries and the Evangelical Fellowship of Canada — were held to encourage Christians to use the film to reach out to their non-Christian friends and neighbours.
To this end, the organizers have set up two websites: ShareTheLife.com contains resources for promoting the film and reaching out to non-Christians, while TheLife.com has been designed for 'seekers' who want to learn more about Christ after seeing the film, which will be released to over 2,000 theatres across North America February 25.
Outreach Canada will also send a promotional DVD to churches in early February, and there will be training seminars for Christians who want to evangelize using the film.
However, organizers said Christians need to be more subtle in promoting and using this film than they would normally be with other outreach programs like the Alpha Course.
At the screening in Surrey, Kraemer said that, even though Mel Gibson is a believing Catholic who has encouraged Christians to make evangelistic use of his film, Gibson himself is not directly involved in these efforts, and The Passion itself remains a secular film.
Kraemer said Christians do not need to lobby theatres to show the film, since Equinoxe Films — a secular company that has distributed hit films like My Big Fat Greek Wedding and Mambo Italiano — will do everything it can to maximize the film's box-office success. "We don't want the church to be so aggressive in promoting it that the non-churched person says, 'Well, that's a church thing, and I'm not going to it,'" he said.
Outreach Canada director Murray Moerman concurred, adding that churches should avoid putting up 'Go see The Passion' signs outside their buildings. "We do want to encourage Christians to promote the film within the church, but do it on the inside walls rather than the outside walls," he said.
The Passion of the Christ has received an R rating in the United States for its violent depiction of the arrest and crucifixion of Christ. The film has not been rated yet by any of Canada's provinces, though the BC Film Classification Office did rule the trailer could not be shown before G- or PG-rated films.
Kraemer said the violence was justified because the film is a "realistic" and "accurate" depiction of the crucifixion of Christ. He added there is "nothing gratuitous" about the film, though it does take artistic license with its source material. "People ask me, 'Is the film biblical?' And I say, 'It's not unbiblical,'" he said. "There's nothing that contravenes the scripture or contradicts it. I think [Gibson] did a good job."
Moerman said Protestants might also take issue with the Catholic flavour of the film — especially the prominent role it gives to the Virgin Mary — but he said this was acceptable, too, since the film was a genuine expression of Gibson's faith. "Given the kind of spin that Hollywood tends to put on historical events, this slightly Catholic-leaning interpretation of history is not out of line," he said. "I acknowledge it, but I wasn't upset by it."
The Passion of the Christ has been an ongoing source of controversy ever since Mel Gibson appeared on The O'Reilly Factor a year ago to say that an investigative reporter was harrassing his father and raising allegations of anti-Semitism against the film.
In May, a group of Catholic and Jewish scholars said an early draft of the script that had been leaked to them contained elements that could encourage anti-Semitic attitudes. Abraham Foxman, national director of the Anti-Defamation League, repeated this charge after he snuck into a private screening of the film for several thousand pastors in Florida January 21.
However, conservative Jewish pundits such as Michael Medved and David Horowitz have said there is nothing anti-Semitic about the film. Kraemer said several Jews who attended the screenings in Canada also said they found nothing anti-Semitic about the film.
More recently, Vatican officials denied this week that the Pope had endorsed the film after seeing it in December. The widely-reported quote attributed to the Pope — "It is as it was" — was disputed this week by the Pope's personal secretary, Archbishop Stanislaw Dziwisz, who told the Catholic News Service, "The Holy Father told no one his opinion of this film. . . . He does not make judgments on art of this kind; he leaves that to others, to experts."
However, Dallas Morning News columnist Rod Dreher said the evidence — a tangled web of contradictory e-mails from Rome — suggested the Pope's quote may be authentic and Vatican officials may be trying to distance the Pope from the film, for unknown reasons.
The film will likely stay in the public eye and generate impassioned discussion long after it is released February 25.
Ron Reed, founding artistic director of Pacific Theatre, attended one of the Surrey screenings and said the film was more of an "art film" than all the talk of historical accuracy had led him to expect.
He called the film "bracing, challenging, far more stimulating, far more orthodox, than I ever would have expected," and said he was "thrilled" by some of the more "nightmarish" aspects of the film that reminded him of the works of David Lynch and Franz Kafka.
"I also thought, anybody who becomes a Christian because of seeing this film won't likely be signing on for any health-and-wealth gospel," he added. "The Jesus Country Clubs won't gain a lot of members from this one. The tract that ought to accompany The Passion should lead with, 'If anyone would follow me, let him take up his cross and follow me.'"
— Versions of this article were first published in BC Christian News and ChristianWeek.