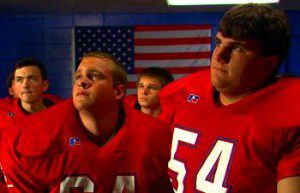 A LITTLE controversy can go a long way.
Facing the Giants, a modest evangelical film made by a church in Georgia with a cast and crew made up almost entirely of volunteers and amateurs, got loads of free publicity last summer when it was rated PG for "thematic elements" — a rating that many pundits and politicians interpreted as a slam against Christianity.
As a result, the movie — produced by Sherwood Baptist Church for a mere $100,000 and released on only 441 screens — went on to gross over $10 million.
That makes it one of the five highest-grossing evangelical movies of all time, behind only End of the Spear, The Omega Code, One Night with the King, and Jonah: A VeggieTales Movie — all of which had budgets between $8 million and $20 million.
Like most Christian movies, Facing the Giants — which concerns a down-on-his-luck football coach at a Christian school — never had a theatrical release on this side of the border, but Canadians can check it out for themselves when the DVD comes out January 30. Alex Kendrick, the pastor who co-wrote, directed and starred in the film, spoke to CanadianChristianity.com about what motivated the film — and its success.
CC.com: Why did you pick the theme of infertility as a major subject for this film?
Alex Kendrick: Basically I just looked around here at church. I'm the associate pastor for media at Sherwood Baptist in Georgia, and I looked around, and asked, "What have we seen God doing at our church, in our midst?" And we had about four couples that had struggled with infertility and had all put in prayer requests, and they were struggling with letting that go and just giving it to the Lord, and praising God for either case. And we did this 40 days of prayer thing in our church where we put our prayer requests on the altar and gave it to the Lord, and we shared each other's prayers, and at the end of the 40 days, three of the couples got pregnant, biologically, when they had been told it was impossible. I remember thinking, "That is incredible, and what are the odds that it would happen to three of them?"
Now one of them ended up adopting, and they think the Lord led them to do that, and I can see the Lord doing that. I think that's a perfectly viable answer to prayer. Or the Lord may have said, "No kids at all." He can do that. But we saw them grapple with this. I had to change the chronology to tell a two-hour story, but everything you see in the movie really happened. I mean, the team making it to the state championship, the coach being given a car — all of that really happened. So we just took those individual elements and formatted this one story.
CC.com: Did these all happen to members of your church?
AK: Yeah, or schools in our community. But it was all local stuff that we had seen happen. So it's funny to me when people say, "These things don't happen, it's not realistic." I know they're not normally things you see, but we saw everything happen, and so I didn't feel bad about sticking it in the movie, where the theme is, "With God all things are possible."
CC.com: Perhaps people are objecting to the way the film picks which real-life elements to incorporate into the story. For example, you could have chosen to have your main character adopt, like that one couple you mentioned.
AK: Oh yeah, we could have. And we weren't trying to make a statement. I know some people take it this way, but we never intended to say, "If you give everything to God, things always work out." This is one story, and we've seen things work out where people were overwhelmed in our church, and we've seen God say "no," and then have to struggle with always being in some sort of tribulation and the Lord isn't going to give them the answer they crave, because sometimes our will is not God's will. So you're exactly right, we could have had the adoption, and probably, had my brother and I thought about it for a while, we may have chosen that. So I wasn't trying to make some bold statement that everything works out, because I don't think it does. But there are seasons in my life, and in the lives of people in our church, where we did see God overwhelm them. And so this is just one story of God doing that.
CC.com: What did you make of the controversy over the film's rating?
AK: It really became more than it ever should have become. (laughs) But we turned in the movie, through Provident, to the MPAA, and we were thinking, "Okay, we're going to get G or PG. We might get PG for the infertility thing." So when the rating came back, they said it's PG, and we said okay, and I never had a problem with it. And they said, "You really openly talk about your faith in Jesus Christ," and at first I was thinking, "Is that the reason? It's not the infertility, that's the reason?"
There's a guy named Terry Mattingly who said, "I'd like to write about this." He called me — I didn't call him — about this movie production thing, and he said, "Do you care if I write about this." And I didn't care. I had no idea how well he was known or his circles. And so he writes about it, and I thought it was a pretty neat article. And Matt Drudge picks it up, and I never visit his site — but the day after he put it up on his site, man, the bottom fell out. I remember Fox News, CNN, Good Morning America, Inside Edition, CNN Showbiz Tonight, L.A. Times, New York Times — everybody was calling us. And that was unbelievable.
And the next thing we knew, a bunch of these organizations had kind of rallied, and were bombarding the MPAA with e-mails, telling them to stop picking on this movie. We had nothing to do with that, by the way. We didn't want to be known for this. We told Provident, "We made this movie to minister to people, this isn't what we want to be known for." And they said, "Just answer the questions, don't make a big deal about it." And I remember somebody telling me, "Alex, this is kind of a blessing in disguise, because look at all the exposure the movie's getting."
But see, here's the funny thing. Facing the Giants is not the first movie that's been in this scenario. There have been plenty of other movies that had some religious theme or whatever, and it was rated PG or PG-13, but I don't remember anybody ever raising Cain about it. It's like Facing the Giants is the first time this was such a big deal, and unless the Lord kind of orchestrated that, I still am amazed that it drew that much attention. I don't know, I still don't understand it. It's funny.
— A version of this interview was first published in BC Christian News.