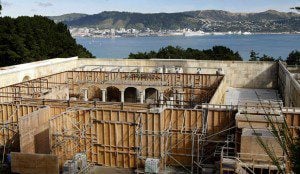 Longtime readers of this blog might remember Kingdom Come, a movie about the life of Jesus that was going to be filmed in New Zealand nearly four years ago. Sets were built, extras were hired, and then… suddenly… everything was put on hold.
Little bits of news have popped up since then — my friend Matt Page noted a few at his Bible Films Blog in 2009 and 2010 — but for the most part, the project appeared to be dead. Indeed, in January 2011, the Dominion Post reported that one of the sets had "rotted" and had been dismantled by the Defence Force, at a possible cost to the taxpayer of $70,000. And by December, the producers had missed a deadline to pay their debt, originally estimated at $5.8 million. The film's 275 creditors eventually settled for a "full and final settlement" of $2 million.
Now, however, the New Zealand papers are reporting that the film might be, ahem, coming back to life. The Dominion Post and Oamaru Mail say the production company, South Vineyard, is checking the structural integrity of one of the remaining sets in Falstone, and may get around to making the film itself eventually.
Time will tell, but I'll certainly be keeping my eyes open for any further news about this project… especially if the producers ever get around to announcing any actual cast members or anything like that.