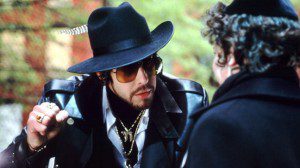 The Jewish Journal reports that writer-director Jonathan Kesselman is looking at making a sequel to The Hebrew Hammer, the 2003 "Jewsploitation" flick that starred Adam Goldberg as an Orthodox private detective who saves Hanukkah from the evil son of Santa Claus.
In the new film, that detective, whose name is Mordechai Jefferson Carver, would have to deal with a time-traveling Adolf Hitler — and since the movie's characters will be jumping around from era to era, the film will feature characters from the Bible, too.
The Journal says the film will feature "a cavalcade of notable Jews", ranging from the biblical heroes Abraham, Isaac and Moses1 to more recent figures like Albert Einstein, Anne Frank and Steven Spielberg (the last of whom directed Goldberg in Saving Private Ryan, but presumably won't be playing himself in this new movie).
The Journal also reports that Goldberg will play Jesus in "a Borscht Belt 'Last Supper' scene featuring Mel Brooks, Carl Reiner, Sid Caesar and Larry David."
Goldberg himself spoke to the Hollywood Reporter about the proposed sequel:
"It didn't seem the sort of franchise where you would want to see him take on one Jewish holiday after another," Goldberg told The Hollywood Reporter late last week. "You want to see him go after the big one. Who's the Jewish Joker? Hitler. It's implicit that if we are going to take on Hitler, there's a time-travel element, so once that widened the scope infinitely, I thought it was important that we hook up with the other big Jew in history: Jesus."

And so, The Hebrew Hammer vs. Hitler will see Mordechai Jefferson Carver — having retired and ceded his place as badass mensch to the young hipster hero Semitic Jewishman — forced to travel back in time to take down the Nazi leader, with Jesus as his history-correcting sidekick.
Kesselman is currently raising funds for the sequel, which he describes as a cross between History of the World: Part 1 (1981) and Bill & Ted's Excellent Adventure (1989), through Jewcer, a sort of Jewish Kickstarter. To learn more about the project, see the (not quite safe-for-work) video below:
1. One could always quibble that Abraham, Isaac and Moses might not technically be Jews, per se, since the word "Jew" is derived from the tribe of Judah, and both Abraham and Isaac were ancestors of that tribe, while Moses was born into the tribe of Levi. But leave that be for now.