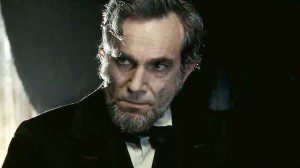 The Academy has spoken, and it looks like Steven Spielberg's Lincoln will be the big winner when the final envelopes are opened on February 24.
All the usual indicators point in that direction, at any rate. It has the most nominations. It is one of only two Best Picture nominees whose directors were also nominated for the Directors Guild Award (the other such film being Ang Lee's Life of Pi). It was nominated for Best Film Editing. And, perhaps just as importantly, it is a box-office hit in a year when the Oscar will probably go to a box-office hit. (More on that in a later post.)
Everyone and his dog will have something to say about the top nominees in the days and weeks to come, and I'd rather not duplicate all that right now. I do, however, want to comment on three trends that stand out to me this morning:
First, Skyfall is the first James Bond film since For Your Eyes (1981) to be nominated for anything, and it is only the second film in the series, following The Spy Who Loved Me (1977), to receive multiple nominations. No Bond film has actually won an Oscar, however, since Thunderball (1965) got one for Best Visual Effects.
Second, the Hobbit prequels now have one more thing in common with the Star Wars prequels, namely, whereas the original trilogy got quite a bit of attention from the Academy, the prequels are being all but ignored.
Third, the Best Animated Feature category is especially interesting this year. Disney was shut out of the category entirely last year, but this year it has three of the nominees, whereas DreamWorks — the studio that won the first-ever Best Animated Feature award eleven years ago — was left out in the cold. Not only that, but the Academy nominated three (three!) stop-motion films in this category, including the relatively little-seen The Pirates! Band of Misfits.
I'm sure other thoughts will occur to me over the next few weeks. In the meantime, here are the films that have been nominated for Oscars, ranked from those with the most nods to those with only one. The titles of those I have seen are in bold:
12 nominations:
Lincoln — Picture, director (Steven Spielberg), adapted screenplay, cinematography, actor (Daniel Day-Lewis), supporting actor (Tommy Lee Jones), supporting actress (Sally Field), production design, costume design, film editing, original score, sound mixing
11 nominations:
Life of Pi — Picture, director (Ang Lee), adapted screenplay, cinematography, production design, film editing, original score, original song, sound editing, sound mixing, visual effects
8 nominations:
Les Miserables — Picture, actor (Hugh Jackman), supporting actress (Anne Hathaway), production design, costume design, makeup and hairstyling, original song, sound mixing
Silver Linings Playbook — Picture, director (David O. Russell), adapted screenplay, actor (Bradley Cooper), actress (Jennifer Lawrence), supporting actor (Robert De Niro), supporting actress (Jacki Weaver), film editing
7 nominations:
Argo — Picture, adapted screenplay, supporting actor (Alan Arkin), film editing, original score, sound editing, sound mixing
5 nominations:
Amour — Picture, director (Michael Haneke), original screenplay, actress (Emmanuelle Riva), foreign language film
Django Unchained — Picture, original screenplay, cinematography, supporting actor (Christoph Waltz), sound editing
Skyfall — Cinematography, original score, original song, sound editing, sound mixing
Zero Dark Thirty — Picture, original screenplay, actress (Jessica Chastain), film editing, sound editing
4 nominations:
Anna Karenina — Cinematography, production design, costume design, original score
Beasts of the Southern Wild — Picture, director (Benh Zeitlin), adapted screenplay, actress (Quvenzhané Wallis)
3 nominations:
The Hobbit: An Unexpected Journey — Production design, makeup and hairstyling, visual effects
The Master — Actor (Joaquin Phoenix), supporting actor (Philip Seymour Hoffman), supporting actress (Amy Adams)
2 nominations:
Flight — Original screenplay, actor (Denzel Washington)
Snow White and the Huntsman — Costume design, visual effects
1 nomination:
Adam and Dog — Animated short
Asad — Live action short
Brave — Animated feature
Buzkashi Boys — Live action short
Chasing Ice — Original song
Curfew — Live action short
Death of a Shadow (Dood van een Schaduw) — Live action short

5 Broken Cameras — Documentary feature
Frankenweenie — Animated feature
Fresh Guacamole — Animated short
The Gatekeepers — Documentary feature
Head over Heels — Animated short
Henry — Live action short
Hitchcock — Makeup and hairstyling
How to Survive a Plague — Documentary feature
The Impossible — Actress (Naomi Watts)
Inocente — Documentary short
The Invisible War — Documentary feature
Kings Point — Documentary short
Kon-Tiki — Foreign language film
Maggie Simpson in 'The Longest Daycare' — Animated short
Marvel's The Avengers — Visual effects
Mirror Mirror — Costume design
Mondays at Racine — Documentary short
Moonrise Kingdom — Original screenplay
No — Foreign language film
Open Heart — Documentary short
Paperman — Animated short

ParaNorman — Animated feature
The Pirates! Band of Misfits — Animated feature
Prometheus — Visual effects
Rebelle (aka War Witch) — Foreign language film
Redemption — Documentary short
A Royal Affair — Foreign language film
Searching for Sugar Man — Documentary feature
The Sessions — Supporting actress (Helen Hunt)
Ted — Original song
Wreck-It Ralph — Animated feature