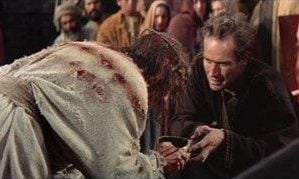 Big news for Bible-movie buffs today. Deadline reports that the once-moribund MGM, now flush with cash from the billion-dollar successes of Skyfall and The Hobbit, is thinking of making a new adaptation of Lew Wallace's 1880 novel Ben-Hur: A Tale of the Christ.
The film would be based on a script by Keith Clarke, whose only big-screen credit to date is the Peter Weir film The Way Back (2010) — and, according to Deadline, while the new film will of course focus on the rivalry between Judah Ben-Hur and his Roman ex-friend Messala, it will also place greater emphasis on the parallel story of Jesus than the famous Charlton Heston-starring 1959 adaptation did.
Ironically, Deadline notes that MGM is free to make this new adaptation — only three years after the most recent adaptation premiered on TV — because the book is now in the public domain. But it wasn't always like this: The first film to be based on this novel, produced way back in 1907, prompted a copyright-infringement lawsuit that set the precedent for all future film adaptations of written works.
You can watch some clips from the 1907 film at the end of this blog post of mine from five years ago. I also wrote a review of the 1925 and 1959 adaptations of Wallace's story when they were packaged together in a four-disc DVD set eight years ago; you can read that review, which links to a few other blog posts of mine, here. (See also this blog post from a few years ago on a visual motif from the 1959 version of Ben-Hur that pops up in yet another Roman epic that co-starred Stephen Boyd.)
The most recent adaptation of Wallace's novel was the 2010 mini-series I alluded to a couple paragraphs ago. I taped it — or, rather, got friends to tape it for me — when it premiered on Canadian television, but I must admit I haven't watched the entire thing yet. I will have to get around to doing that soon.
Incidentally, there has been some other interesting news in the world of Greco-Roman films in development lately, but I'll deal with that in a later post.