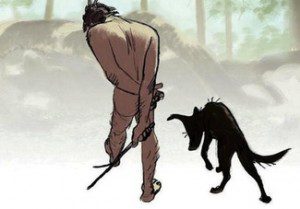 It turns out one of the five nominees for this year's Oscar for Best Animated Short is a version of the story of Adam and Eve, as told from the point of view of a dog. Adam and Dog actually won the Annie Award for Best Animated Short one year ago — beating such better-known films as Pixar's La Luna, Disney's The Ballad of Nessie and Warner's I Tawt I Taw a Puddy Tat — but it somehow didn't get much exposure or qualify for the Oscars until this year. And now that the Academy is casting its final votes, the entire short film has been released online:

http://www.youtube.com/watch?v=hq0-i8GQbgw
One of the things I like about this film is the way it resolutely sticks to the dog's point of view. God's interactions with Adam and Eve are kept entirely off-screen, which allows for a certain mystery but also, in a way, affirms the fact that humans and animals are different from one another and relate to things differently.
Seeing things from the dog's point of view also challenges some of our natural sympathies. When we first see Adam with Eve, she no longer comes across to us as the fulfillment of Adam's wishes but, in a sense, as some sort of interloper who comes between the first man and the first man's-best-friend. And then, at the end, after God has cast Adam and Eve out of the Garden of Eden, the dog tags along — and it is kind of striking to ponder the possibility that one of God's creations might seem more loving to these humans, for lack of a better word, than the Creator himself.
The film was
directed by Minkyu Lee
, a Disney visual development artist who made the film in his spare time with help from artists at other studios, including DreamWorks and Pixar. I don't know much about the religious background, if any, of these artists, but I do note that Lee told my friend Darrel Manson, in an interview for Hollywood Jesus, that the idea for the film was partly motivated by "
my faith
"; plus, one of the consultants on the film, who also did some visual development on it, was Disney legend Glen Keane, who is
a practising Christian
in his own right.
The Oscar winners won't be announced until February 24, so until then, here's hoping more people see Lee's film and give it their vote.
In addition to seeing it online, you can also catch it as part of the traveling collection of Oscar-nominated short films that is currently touring the planet. (Here in Vancouver, they're playing at the VanCity Theatre until February 21.)