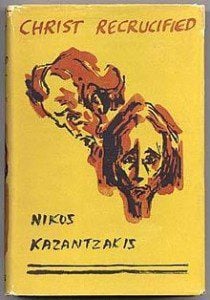 First it was a 1948 novel called Christ Recrucified. Then it was a 1957 film called He Who Must Die. (Two mini-series adaptations followed, one in 1969 and one in 1975, both using the novel's original title.) Now comes word, via Deadline, that yet another adaptation is in the works — and this time, it is going to go by the considerably more upbeat title Christ Is Risen.
Deadline says the producers want to target "faith-based audiences", so this could be another version of the phenomenon we saw a few years ago, when the British Rwandan-genocide movie Shooting Dogs (2005) was renamed Beyond the Gates for religious audiences in the United States.
In any case, the story itself — originally set in a Greek village in the 1920s, though the new film will take place in present-day Mexico — concerns a group of people who are asked to play Jesus and his disciples in a passion play, and then find themselves becoming the characters, with tragic results. Some observers, such as Jonathan Rosenbaum, have compared it to Denys Arcand's Jesus of Montreal (1989).
The original novel was written by Nikos Kazantzakis, who also wrote the novels upon which the films Zorba the Greek (1964) and The Last Temptation of Christ (1988) were based. So there's potential for something interesting here, at least.