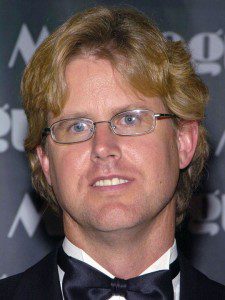 So, while I was polishing off my last couple of Jesus-themed posts, the Hollywood Reporter posted a story to the effect that yet another mini-series about Jesus is currently in the works.
The projected six-hour mini-series is called Jesus of Nazareth, and is not to be confused with Franco Zeffirelli's 1977 mini-series or the film that Paul Verhoeven has been talking about making for decades (and which, according to the Reporter, is currently stalled for lack of a screenwriter).
The new mini-series is currently being developed by Michael Landon Jr. (pictured) and producer Brian Bird, who have collaborated on a number of Christian films. (My negative review of one of them touched off a firestorm of controversy — very little of it directly involving the filmmakers themselves, I'm happy to say — just over six years ago.)
Here is how they described their new series to the Reporter:
Landon says their version "will be traditional in the sense we're going to stay true to the gospel, but it won't be traditional in the sense that our version is actually going to be made for the skeptic, not the believer."

Says Bird: "We're not looking to cause controversy to anybody. What we hope to do will be orthodox and faithful to the gospel and pleasing to whoever sees it. The idea of helping skeptics see Christ in a different way than they've ever seen him before, that's not going to upset the choir."
The mini-series does not yet have a network attached to it, so it remains to be seen whether this will be a nationwide hit like The Bible or end up in limbo like that recent remake of Ben-Hur, which played in a few countries overseas after premiering in Canada but has, to my knowledge, never been broadcast in the United States.