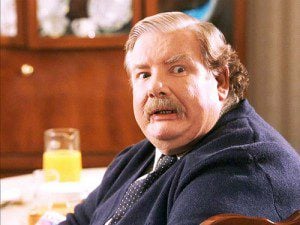 British character actor Richard Griffiths has passed away at the age of 65.
To many people — including many of the headline writers out there — he is best-known as the actor who played Harry Potter's awful Uncle Vernon. To others, he is famous for playing Uncle Monty in the cult hit Withnail & I (1989).
But he will always linger in my memory for a tiny part he had in Greystoke: The Legend of Tarzan, Lord of the Apes (1984).
In that film, he played Captain Billings, the only person apart from Tarzan's parents who survived the shipwreck at the beginning of the film. The first time we see the character, he is sitting on the beach and staring at the wreckage. When Lady Clayton comes to and asks him where her husband is, he just sits there and repeats the words "It's not my fault," with an occasional "Don't blame me…"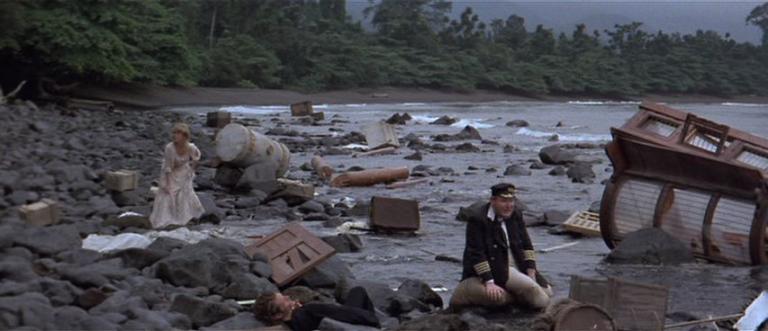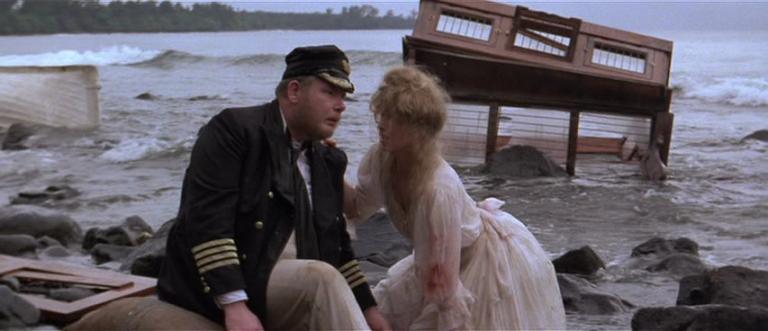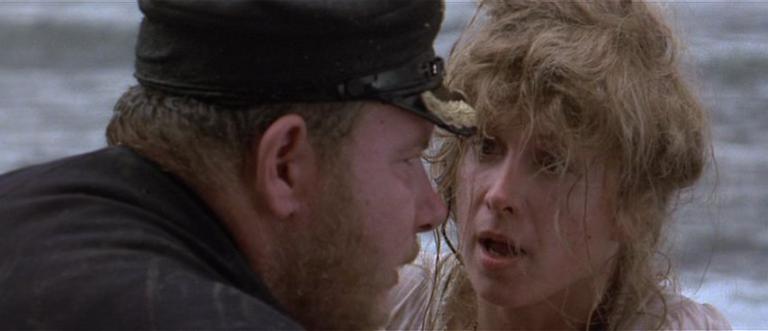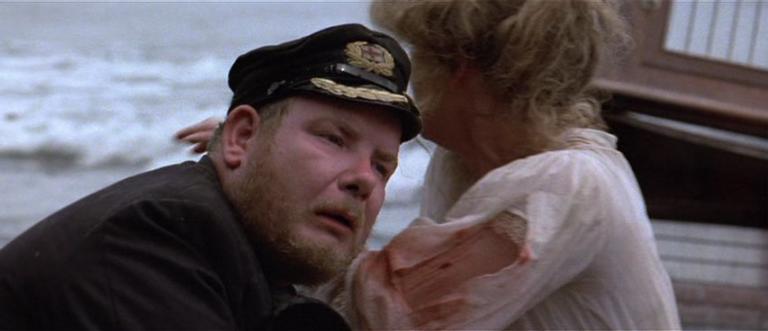 Shortly after this, the film jumps ahead ten months, to a point just after Tarzan's birth, and Tarzan's father writes in his journal that Captain Billings left to find help at the beginning of those ten months but "must have perished in the attempt."
For years, I assumed that Tarzan's father had been correct. But when the DVD came out in 2004, I listened to the director's commentary and discovered that I had been wrong, and that Captain Billings actually appears in another scene roughly halfway through the film, when the adult Tarzan and his Belgian mentor, Philippe D'Arnot, make their way out of the jungle and into a colonial outpost.
There, as Tarzan dips his finger into what is probably the first glass of water he has ever seen, and as D'Arnot puts on the shirt that one of the local Brits has given him, a man steps into the background and removes his hat… and the film even cuts to a very brief close-up in which the man seems to look straight into the camera: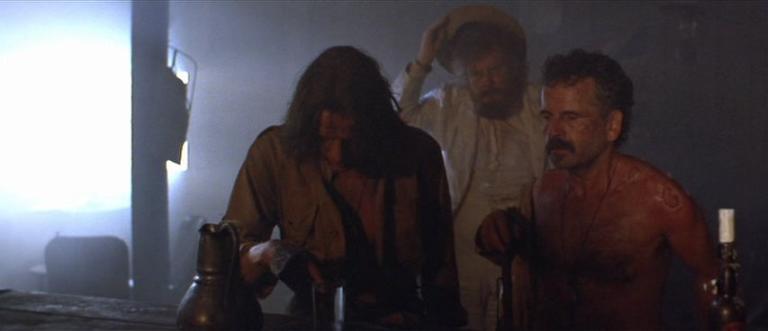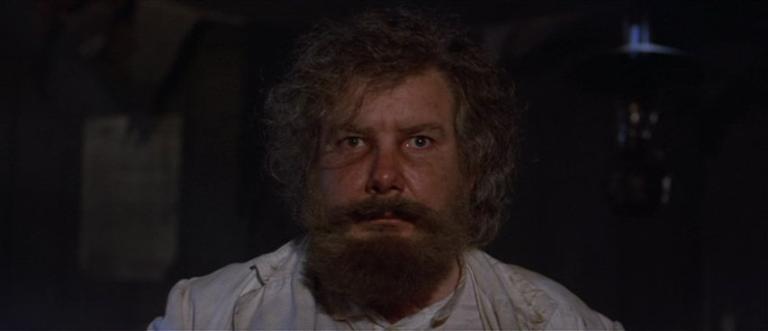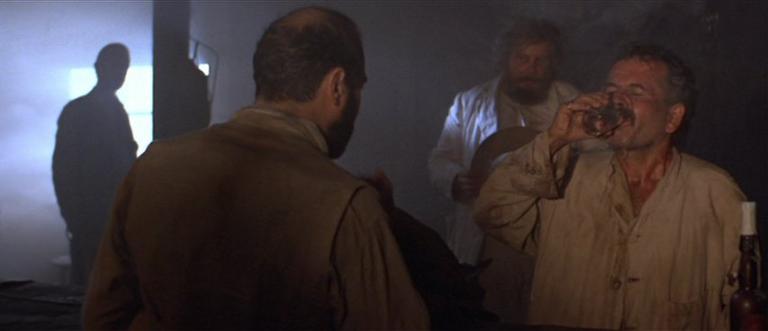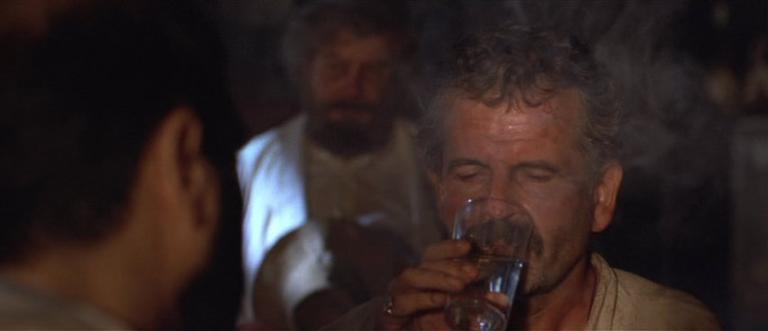 Tarzan and D'Arnot then make their way to a room upstairs, and all the men by the bar look up at them, including Captain Billings, who now stands on the far right: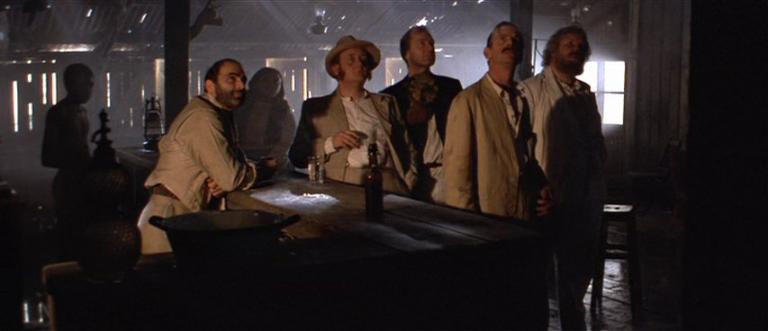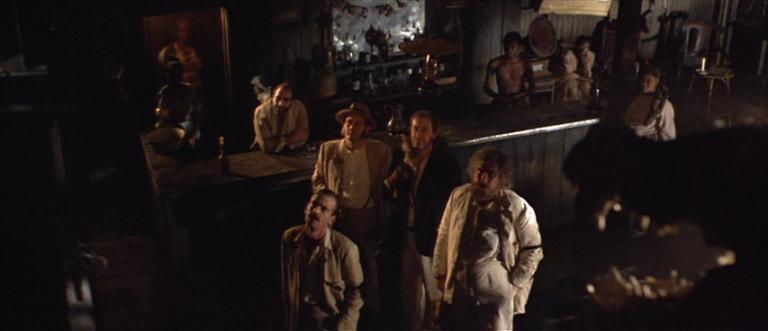 Now, how did I miss this detail all these years? How did I miss the fact that Captain Billings appears more than once in this film?
Well, for one thing, the character looks very different. Perhaps the short close-up, in which the character almost seems to break the fourth wall, should have tipped me off… but then, I'm not even sure that that shot is in the original theatrical version of the film, which I bought on VHS back in 1985, and which was the only version of the film I was familiar with until the DVD came out nearly two decades later.
Certainly the DVD makes the connection explicit, because there is an extra scene that follows this, in which all the men in the bar tell D'Arnot their names, and one of them says, "Captain Billings you have met, yes? He's been here longer than any of us." But that scene wasn't in the version of the film that I watched repeatedly in my teenaged years and beyond. (And it's not a particularly strong scene, so I can understand why they deleted it in the first place. Frankly, I would still leave it out of the film.)
In any case, I remember being absolutely floored when I watched the DVD and made this connection. Just think: Captain Billings was supposed to find help for the son and daughter-in-law of the Earl of Greystoke — and apparently, he didn't. More than anyone else, Captain Billings may be responsible for the fact that Tarzan's parents died in Africa, and that Tarzan himself was raised by apes and has spent his whole life in the jungle — and here the two characters are, standing mere inches apart from one another, and presumably neither of them knows that they have this connection.
And as if that wasn't enough, I was finally making this connection some 20 years after the film first came out — just as Billings re-enters the story some 20-odd years after Tarzan's father gives him up for dead! That just added to the "Whoa!" factor.
Anyway. Griffiths was a busy actor, with 90 movie and TV credits going back to 1974, according to the IMDb, plus he did a lot of stage work as well; he won several awards, including a Tony, for playing a teacher in Alan Bennett's The History Boys (2004), and he helped Harry Potter star Daniel Radcliffe transition into more mature roles by co-starring with him in the 2007 revival of Peter Shaffer's Equus.
As Uncle Monty, in Withnail and I, Griffiths famously declared, "It is the most shattering experience of a young man's life when one morning he awakes and quite reasonably says to himself: 'I shall never play the Dane.'" I have no idea if Griffiths himself ever played the Dane — the name "Hamlet" does not turn up on his IMDb page, at any rate — but he did play some very memorable characters that are quoted and beloved to this day, and that's more than can be said for many actors.
Rest in peace.