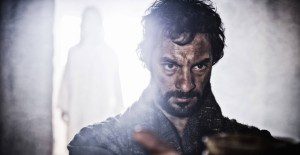 You often hear that the Bible is the best-selling book of all time. It turns out that movies and TV shows based on the Bible can set records in their own mediums, too.
The most recent example is The Bible, an ambitious mini-series produced by reality-TV mogul Mark Burnett (Survivor, The Apprentice) and his wife Roma Downey, former star of Touched by an Angel.
Broadcast over five Sunday nights in March, the mini-series — which squeezes the entire Bible, from Genesis to Revelation, down to about seven hours without commercials — earned high ratings on the History Channel before coming out on DVD, where it quickly became the top-selling TV mini-series ever, and the top-selling TV show of any sort in years.
And that's not the only Bible production in the pipeline. Two more have already finished shooting and are due to come out in the next ten months.
First, there is Black Nativity, an adaptation of the Langston Hughes musical, first performed in 1961, which tells the story of the birth of Jesus using a mix of new songs and classic spirituals. In the film version, the biblical story itself will be presented as part of a dream that a teenaged kid has while his grandfather leads a Christmas service in an inner-city church.
Then, there is Noah, a big-budget epic set for release in March 2014. Directed by Darren Aronofsky — a filmmaker best-known for edgy independent films like Requiem for a Dream and Black Swan — that film will star Russell Crowe as Noah, Anthony Hopkins as Noah's grandfather Methuselah, and Ray Winstone as Noah's "nemesis" Tubal-Cain.
And those are just the Bible films that are already in the can. In the last few months alone, there have been reports about other films in development, such as:
▪ Exodus: Director Ridley Scott (Blade Runner) is reportedly talking to Christian Bale (The Dark Knight Rises) about playing Moses in this film for 20th Century Fox.
▪ Gods and Kings: Steven Spielberg recently dropped out of directing this film about Moses for Warner Brothers; the studio is now said to be talking to Ang Lee (Life of Pi).
▪ Jesus of Nazareth: Michael Landon Jr., director of the Love Comes Softly series of films, is planning a new six-hour mini-series based on the gospels.
▪ Pontius Pilate: Mark Johnson, producer of the Narnia films, is reportedly talking to Brad Pitt about starring in this film about the political figures responsible for the death of Jesus.
▪ Ben-Hur: The MGM/UA studio (The Hobbit, Skyfall) is thinking of making a third feature adaptation of the classic Lew Wallace novel set during the life of Christ.
And now Burnett is talking about releasing a shorter version of The Bible to the big screen and producing a possible follow-up for television.
It's possible that some, or even all, of these films might not get made; and those that do, could take a while to go into production. (Black Nativity and Noah were both in the works for years before they went before the cameras.)
But the proliferation of Bible-themed projects indicates that there is great interest in these stories, both among filmmakers — a number of whom are believers themselves — and among audiences.
Films like these can be exciting and informative, inasmuch as they not only bring Bible stories to life but, in doing so, they can get us to think about the Bible from angles we might never have considered before. It is one thing to read that Abraham was prepared to sacrifice Isaac on an altar, or that the resurrected Jesus appeared to his disciples, but what would that have looked like? Felt like? Dramatic interpretations of the story can help us imagine.
There is always the risk, of course, that dramatic interpretations of the story might take over our imaginations, by shaping our memories of the story. If we don't check the movies we've seen against the Book on which they are based, we can sometimes start to assume that things which happened only in the film have always been an integral part of the story.
But, just as we have four gospels that illuminate different and sometimes contrasting aspects of the life of Jesus, the answer to such concerns is not to make less films, but to make even more, and to explore the stories as creatively yet faithfully as possible.
We do need to be aware of the ways in which these films often borrow from post-scriptural traditions themselves. Much of Mel Gibson's The Passion of the Christ was based on the visions of Sister Anne Catherine Emmerich, a 19th-century nun. Similarly, it sounds like much of Aronofsky's Noah will be based on apocryphal texts such as the Book of Enoch.
We also need to be aware of how these films tweak the stories to pander to, rather than challenge, our modern sensibilities. The Bible, for example, fills much of its running time with gratuitous violence; some of it is justified by the historical context, but much of it seems to be thrown in there just to make the story more "exciting" for modern viewers.
And while the dialogue did include quite a few bits from the Bible, it occasionally veered into the language of therapeutic talk shows. When Jesus gives Peter his miraculous catch of fish, Peter does not respond by confessing his sinfulness, as he did in the gospels; instead, Jesus says things like, "Give me an hour and I will give you a whole new life."
But let's not throw out the wheat with the chaff. It is good to be made aware of how earlier believers have interpreted these stories, and we can sometimes learn even from their embellishments. (The Book of Enoch might be apocryphal, but the canonical Book of Jude does cite it to make a point or two.)
And it is good to bring the biblical stories into some sort of dialogue with the present — whether explicitly, by juxtaposing modern scenes and biblical scenes as Black Nativity will do, or implicitly, by focusing on themes that are just as applicable to our own times as they were to the times in which the prophets and apostles lived.
Bible-based films might not be God-breathed, per se, but God can still speak to us through them, if we have discerning ears to hear.
Peter T. Chattaway lives in Surrey, BC, and blogs about Bible epics and other films at patheos.com/blogs/filmchat.
— A version of this article was first published in ChristianWeek.