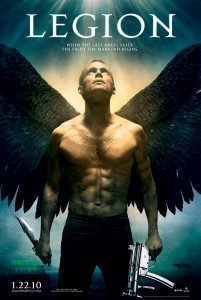 Sometimes it can be more fun to write about a really bad movie than a good movie. Sometimes a movie is so awful that it excites the mind in a way that merely okay movies don't, especially when the awful movie in question is on a subject that you're really interested in. Such was the case for me, three years ago, with Legion (2010), an apocalyptic shoot-'em-up that starred Paul Bettany as an archangel who turns against God when God decides to destroy all of humanity.
At the time, I listed ten reasons why the film was a major disappointment, even on its own ridiculous terms, and I was content to leave it at that. But apparently the filmmakers were not. Deadline reported yesterday that Syfy has commissioned a 90-minute pilot for a potential series called Dominion, which would take place a couple decades after the movie:

Dominion is described as an epic supernatural action drama set 25 years in the future after a war between an army of angels and mankind has transformed the world. It follows the perilous journey of a rebellious young soldier who discovers he's the unlikely savior of humanity.
As it happens, two of my complaints about the original film had to do with its treatment of the birth of this messiah:
Why is God trying to wipe out humanity only eight months after this child was conceived? Is this child the Son of God? If so, why is God suddenly pulling the plug? If not, then why does the child matter in the first place? . . .

And that's another thing: Is this supposed to be the First Coming or the Second Coming? The director has reportedly said that this film acts as though the New Testament never happened. But if that's the case, why do the characters use words like "Christ" as a curse-word? How did that word get into their language?
So now there's going to be a TV series that will presumably try to answer some of these questions. Or maybe it won't. Or maybe it will, and the answers will just be stupider than what the movie already gave us. Who knows.
But note: the messiah in this case is a "rebellious soldier", and thus presumably not the cheek-turning, enemy-loving, put-your-sword-down revolutionary that Jesus was. And that's before we take into consideration any of the more, um, theological differences that will probably exist between the two characters.
It would also be interesting to know just who, or what, the messiah of this film is going to "save" humanity from. Humanity was already saved — from God! — in the original film. So has God decided to destroy humanity all over again? Or has a new threat come up? Are we finally going to see Satan, who was conspicuously absent from the original film? Or did some of the angels from the previous film decide that God shouldn't have given humanity a last-minute reprieve after all?
I know, I know, I shouldn't even be asking these questions. Given how the film turned out, it's extremely unlikely that the series will be even half as interesting as the questions it raises. I should probably focus my mental energies elsewhere and hope the show dies a quick death. But I just can't help myself sometimes.