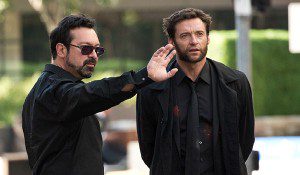 Tonight marks the release of The Wolverine, the sixth installment in the X-Men franchise and the sixth film to feature Hugh Jackman as the self-healing Canadian mutant with the retractable adamantium claws.
The Wolverine is also the second film, following X-Men Origins: Wolverine (2009), to feature the title character as a stand-alone protagonist, and one fun bit of trivia is that both of the stand-alone movies have represented a reunion of sorts between Jackman and one of his key collaborators on the time-travelling romantic comedy Kate & Leopold (2001). The first film co-starred Liev Schreiber as Wolverine's half-brother; he had previously played Jackman's great-great-grandson in Kate & Leopold. And now, the second film is directed by James Mangold, who directed Kate & Leopold. (If there's a third Wolverine film, perhaps it will co-star Meg Ryan?)
So, to mark the occasion, I have re-posted the review of Kate & Leopold that I wrote way back when. Incidentally, the version of that film that was shown to critics was different from the version that was released to theatres a week or two later — and, among other things, the theatrical version of the film deleted a few of the scenes that I focused on in my review, including the scene that I based my entire first paragraph on. I believe both versions of the film have since been released on DVD, though.
I also had the opportunity to interview Mangold on the press junket for the Johnny Cash biopic
Walk the Line
(2005); I spoke to that film's co-stars Joaquin Phoenix and Reese Witherspoon, as well. You can read my junket report
here
.
I don't seem to have written formal reviews of any of the X-Men movies, apart from a few paragraphs in a film column on the prequels or quasi-prequels of 2009. (The column also looked at Star Trek and Terminator: Salvation.) I did, however, write a blog post on the possible political subtexts to X-Men: The Last Stand (2006).