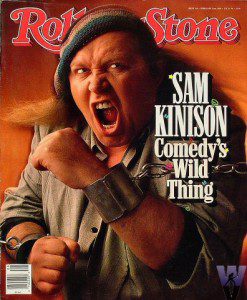 Five years ago, I wrote a short blog post noting that HBO was developing a biopic on Sam Kinison, the Pentecostal preacher turned politically-incorrect stand-up comic.
Now, today, comes news that this project, which already had a few producers attached to it, finally has a director and an actor — and it turns out nearly everyone involved has mixed religion with comedy in one form or another in the past.
First, one of the producers is Tom Shadyac, director of Bruce Almighty (2003) and its sequel Evan Almighty (2007); more recently, he has documented his own personal spiritual quest in a film called I Am (2010).
Second, the director is Larry Charles, who may be best-known for producing a number of TV shows (Seinfeld, Entourage, Curb Your Enthusiasm) and directing three films with Sacha Baron Cohen (Borat, Bruno and The Dictator), but whose credits also include the Bill Maher-starring docu-satire Religulous (2008).
Third, the star of the film will be Josh Gad, one of the original stars of the Broadway musical The Book of Mormon (2011); he also apparently played a "sassy Hispanic angel" in a modernization of the Nativity story called Mary and Joe (2002).
Shadyac has made a point of promoting certain films of his to Christian audiences in the past — I spoke to him myself on the junket for
Evan Almighty
— while Charles, in his own interviews, gave the impression that he didn't care who he offended with
Religulous
. But if there's a tension between their approaches, it is a tension that was arguably embodied by Kinison himself, who clearly pushed the envelope in his own stand-up routines but wasn't above doing
interviews with Christian magazines
in which he at least toyed with theological defenses for his brand of comedy.
So it could be interesting to see how accessible, for lack of a better word, this film might be to those with an interest in the relationship between religion and humour.
Incidentally, the Deadline story that announced Gad's involvement in the film also had this to say about the other characters who might show up in the movie:
Much of Kinison's decadent years we all learned about through his many appearances on Howard Stern's radio show, and Stern will be among the many characters the producers will cast as they tell his story. The producers are in conversations with a number of stars and stand up comics to populate such roles as evangelists Jim and Tammy Faye Bakker and Oral Roberts, as well as comic peers like Richard Pryor.
Stern, of course, played himself in Private Parts (1997). Jim and Tammy Faye were played by Kevin Spacey and Bernadette Peters in the TV-movie Fall from Grace (1990). I don't know at this point if anyone has ever played Oral Roberts or Richard Pryor in a feature-length drama (as opposed to a short film or a satirical sketch).
But hey, while we're on the subject of actors playing televangelists, we could also mention that Alec Baldwin played Jimmy Swaggart in Great Balls of Fire! (1989) and that Richard Paul played Jerry Falwell — twice! — in the aforementioned Fall from Grace and then, again, in The People vs Larry Flynt (1996).
Could be interesting to see what the Kinison biopic adds to the mix.