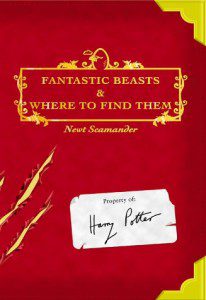 Remember when there was talk of turning The Tales of Beedle the Bard into a movie? Well, it turns out the inevitable Harry Potter spin-off movie will actually be based on Fantastic Beasts and Where to Find Them, one of two Hogwarts "textbooks" that J.K. Rowling released in 2001. The book was credited to Newt Scamander, a wizard born in 1897 who worked on his book between 1918 and 1927 — and it sounds like the film will take place during this period.
It's worth noting that Rowling herself will write the screenplay for this film; all of the previous movies were based on her books but were adapted by other writers. Also, the first film in this new series will be set in New York; it is tempting to suggest that Rowling has finally given in to studio pressure to Americanize her very-British series, but Scamander supposedly traveled "across five continents" to research his book, so this could very easily turn out to be a globe-trotting series like the James Bond or Indiana Jones films.
Note, too, how the producers insist that this new series is not a "prequel" to the Harry Potter movies, per se; rather, just like Prometheus (2012) and The Bourne Legacy (2012), it will expand the world of an existing franchise without necessarily adding to the storyline that has dominated our knowledge of that world until now.
Meanwhile, the big-screen The Bible spin-off now has a distributor. 20th Century Fox — whose home-entertainment division already distributes the Emmy-nominated mini-series on DVD — has signed a deal to handle the theatrical release of Son of God, a 135-minute re-edit of the Jesus episodes from that mini-series. No release date has been announced yet, but in the past there was talk of releasing the film in time for Easter, which would mean releasing it around the same time that Darren Aronofsky's Noah is currently set to come out. Fox is also currently planning to release Ridley Scott's life-of-Moses movie Exodus late next year.
The Left Behind remake has a new cast member
: Lea Thompson, best known for playing Marty McFly's mother (and one of his other ancestors) in the
Back to the Future
trilogy (1985-1990) and for getting cozy with
Howard the Duck
(1986),
will now play Irene Steele
, the woman who gets raptured along with her son while her husband and daughter are "left behind". The husband, airline pilot Rayford Steele, is being played by Nicolas Cage, while daughter Chloe is being played by Cassi Thomson. Irene was played in the original
Left Behind
films by Christie MacFadyen.
Eric Bress, writer-director of The Butterfly Effect (2004) and a writer on two of the Final Destination sequels (2003-2009), will next make an apocalyptic thriller inspired by the ten plagues, called Testament. The synopsis:
Testament focuses on a prestigious boarding school's science teacher and his students in a remote part of Texas where life is pretty ordinary for this small, tight-knit community. But when the Ten Plagues of the Old Testament descend not only on the town, but the entire world, the teacher and his students are forced to fight for their lives. As blood fills the school's swimming pool — as fast as it fills rivers, lakes and oceans worldwide — our characters try to comprehend the scope of this cataclysmic event not knowing that nine more unfathomable disasters are about to besiege them — frogs, lice, wild animals, pestilence, boils, hail, locusts, darkness. And finally the death of the first born. As the world desperately races to uncover the cause of these phenomena, students and teachers alike must band together to survive these random acts of nature. Or are they? Could it be acts of divine intervention? Fear, panic and imminent doom may not build character, but it does reveal character when teenage heroes are born as the world is coming to an end.
This would not be the first film to set the ten plagues in the modern world. Six years ago, there was The Reaping, which starred Hilary Swank and AnnaSophia Robb — and about which I remember very little, except that I found it dull, plodding and cheesy — and there have probably been other such films, as well.
Finally, Disney may have cancelled the 3D re-release of The Little Mermaid (1989) in theatres — they're still releasing the 3D version on Blu-Ray — but in its place, they've come up with something worse. Much worse. Behold, a trailer that encourages children to think it's perfectly normal to use iPads and other mobile devices in a theatre where people might be trying to pay attention to the actual movie: