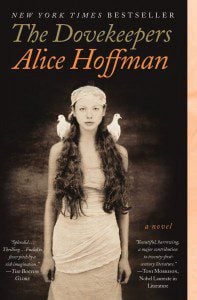 Bit of a delayed reaction here, as I was under the weather when these two news items surfaced last week.
First, The Bible producers Mark Burnett and Roma Downey are producing an adaptation of The Dovekeepers, an Alice Hoffman novel that takes place during the siege of Masada, which marked the end of the First Jewish-Roman War in AD 73.
Burnett and Downey are already working on a sequel to The Bible that will mix the history of the early church with secular accounts of the Jewish rebellion against the Romans, etc. But it sounds like The Dovekeepers — which follows the stories of four women who end up at Masada during the siege — will focus more narrowly on the Jewish rebellion.
Interestingly, one of the network executives quoted in the story hypes the mini-series by referring to Burnett and Downey's "passion for telling biblical stories," which raises the question of whether the story of Masada is actually a "biblical story". It concerns first-century Jews, yes, and it is generally believed that much of the New Testament was written sometime after the First Jewish-Roman War — but with the possible exception of the Book of Revelation (and maybe not even that), the events described in the New Testament all take place at least a decade before the siege of Masada, and the war itself is never directly mentioned, except in certain ominous prophecies.
In any case, the plan right now is to turn The Dovekeepers into a four-hour mini-series and air it on CBS in 2015. The Bible sequel is being developed for NBC and, as of today, is currently set for the spring of 2015.
The story of Masada has been dramatized a few times before, most notably in a 1981 mini-series that starred the late, great Peter O'Toole as the Roman general in charge of the siege and Peter Strauss as the leader of the Jewish Zealots.
Second, Lionsgate announced that they have acquired the film rights to Zealot: The Life and Times of Jesus of Nazareth, the Reza Aslan book which posits that Jesus was basically just another political revolutionary, and not the cheek-turning pacifist who claimed some sort of divine status, as the New Testament describes him.
Aslan achieved a bit of notoriety a few months ago when a Fox News journalist asked some ignorant questions about him and his book — the journalist was apparently unaware that Jesus is considered a prophet within Islam and that Aslan's book deviates from Muslim beliefs about Jesus just as surely as it deviates from Christian beliefs — and Aslan, a creative-writing professor with a doctorate in the sociology of religion, responded by puffing up his own credentials as an historian.
No screenwriters or directors are currently attached to Zealot.