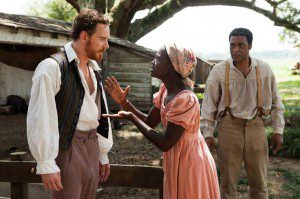 It is extremely rare for a film to win Best Picture without also being nominated for its director, its film editing, and its screenplay. So it looks like this year's top Oscar will go to either the frivolous but entertaining American Hustle, which scored 10 nominations altogether, or the serious and historically significant 12 Years a Slave, which scored nine.
Between American Hustle and last year's The Silver Linings Playbook, director David O. Russell has pulled off the neat trick of getting nominations in all four acting categories for two years in a row. This had happened only 13 times prior to Russell's films, and while no film has ever won all four acting categories, all but two of the 14 films so nominated in the past have won at least one of the acting awards (the sole exceptions being 1936's My Man Godfrey and 1950's Sunset Boulevard).
Gravity is also up there with 10 nominations, including nods for directing and editing — but it has no screenplay nomination, so that pretty much seals the film's fate.
Beyond that, here are a few points that jumped out at me; I may notice other oddities and curiosities later, especially as I read the comments of other Oscar watchers:
First, an independent Christian film I had never heard of before, called Alone Yet Not Alone, was nominated for its title song — which is apparently sung in the film by Joni Eareckson Tada. (If the name rings a bell, it might be because she's the quadriplegic whose life story was turned into a Billy Graham movie — one of his best, actually — back in 1979.) Strictly speaking, this might not be the first time an independent Christian film has been nominated for an Oscar — the 1953 film Martin Luther, which was nominated for cinematography and art direction, comes to mind — but still, as far as recent evangelical efforts go, it feels like some sort of precedent has been set here. Incidentally, does this mean Joni will get to sing at the Oscar ceremony?
Second, three of the year's top-grossing computer-animated films (The Croods, Despicable Me 2, Frozen) were nominated for Best Animated Feature, but the year's one Pixar film (Monsters University) was snubbed in favour of a couple of hand-drawn foreign films (Ernest & Celestine, The Wind Rises). Pixar's The Blue Umbrella was also shut out of the Best Animated Short category, but we've known that ever since the shortlist for that category was released back in November.
Third, it's striking to see that Wong Kar-wai's The Grandmaster was shut out of the Best Foreign Language Film category, when it's the only non-English live-action non-documentary feature-length film that was nominated in any of the other categories (namely cinematography and costume design).
Fourth, The Hobbit: The Desolation of Smaug ties last year's The Hobbit: An Unexpected Journey for least nominations of any Peter Jackson film set in Middle-Earth. An Unexpected Journey ended up losing in all three categories, so it's not impossible that The Desolation of Smaug could too. It's quite the comedown from a decade ago, when all three Lord of the Rings films were nominated for Best Picture (as well as dozens of other awards), and the third film actually won.
Here are the feature films that have been nominated for Oscars, from those with the most nods to those with only one. The titles of those I have seen are in bold:
10 nominations:
American Hustle — Picture, director (David O. Russell), original screenplay, actor (Christian Bale), actress (Amy Adams), supporting actor (Bradley Cooper), supporting actress (Jennifer Lawrence), production design, costume design, film editing
Gravity — Picture, director (Alfonso Cuaron), cinematography, actress (Sandra Bullock), production design, film editing, original score, sound editing, sound mixing, visual effects
9 nominations
12 Years a Slave — Picture, director (Steve McQueen), adapted screenplay, actor (Chiwetel Ejiofor), supporting actor (Michael Fassbender), supporting actress (Lupita Nyong'o), production design, costume design, film editing
6 nominations
Captain Phillips — Picture, adapted screenplay, supporting actor (Barkhad Abdi), film editing, sound editing, sound mixing
Dallas Buyers Club — Picture, original screenplay, film editing, actor (Matthew McConaughey), supporting actor (Jared Leto), makeup and hairstyling
Nebraska — Picture, director (Alexander Payne), original screenplay, cinematography, actor (Bruce Dern), supporting actress (June Squibb)
5 nominations
Her — Picture, original screenplay, production design, original score, original song
The Wolf of Wall Street — Picture, director (Martin Scorsese), adapted screenplay, actor (Leonardo DiCaprio), supporting actor (Jonah Hill)
4 nominations
Philomena — Picture, adapted screenplay, actress (Judi Dench), original score
3 nominations
Blue Jasmine — Original screenplay, actress (Cate Blanchett), supporting actress (Sally Hawkins)
The Hobbit: The Desolation of Smaug — Sound editing, sound mixing, visual effects
2 nominations
August: Osage County — Actress (Meryl Streep), supporting actress (Julia Roberts)
Despicable Me 2 — Animated feature, original song
Frozen — Animated feature, original song
The Grandmaster — Cinematography, costume design
The Great Gatsby — Production design, costume design
Inside Llewyn Davis — Cinematography, sound mixing
The Lone Ranger — Makeup and hairstyling, visual effects
Lone Survivor — Sound editing, sound mixing
1 nomination
The Act of Killing — Documentary feature
All Is Lost — Sound editing

Alone Yet Not Alone — Original song
Before Midnight — Adapted screenplay
The Book Thief — Original score
The Broken Circle Breakdown — Foreign language film
The Croods — Animated feature
Cutie and the Boxer — Documentary feature
Dirty Wars — Documentary feature
Ernest & Celestine — Animated feature
The Great Beauty — Foreign language film
The Hunt — Foreign language film
The Invisible Woman — Costume design
Iron Man 3 — Visual effects
Jackass Presents: Bad Grandpa — Makeup and hairstyling
Mandela: Long Walk to Freedom — Original song
The Missing Picture — Foreign language film
Omar — Foreign language film
Prisoners — Cinematography
Saving Mr Banks — Original score
The Square — Documentary feature
Star Trek into Darkness — Visual effects
20 Feet from Stardom — Documentary feature
The Wind Rises — Animated feature