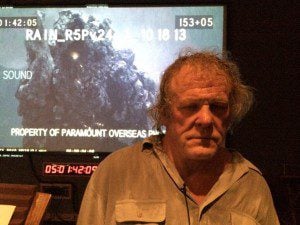 Darren Aronofsky tweeted this morning that Nick Nolte has just been added to the cast of Noah as the voice of Samyaza, one of the Watchers or Nephilim. (In most Jewish literature, the Nephilim are the offspring of the Watchers, but in Aronofsky's film, they appear to be one and the same.) This is a little concerning, as the character had originally been played by Mark Margolis, an actor who has appeared in every single one of Aronofsky's previous films. Margolis will still be represented in the film, sort of, as he provided the motion-capture performance that the CGI character is based on. But still, I had assumed his voice would be in the film. Let's hope this bit of last-minute re-casting hasn't been imposed on the film by the studio, the way New Line Cinema forced Chris Weitz to replace Nonso Anozie with Ian McKellen as the voice of an armoured bear in The Golden Compass (2007).
January 18 update: I just noticed that Aronofsky posted a follow-up tweet in which he assured Margolis fans that the actor is still in the film — as the voice of another Watcher named Magog. All right, then. Oh, and Aronofsky also indicated that Frank Langella may be voicing one of the Watchers, too. That could be interesting.
mark margolis fans, fear not, mark plays watcher Magog as always, #noah . long live the nephilim. nolte joins mark and frank langella.

— darren aronofsky (@DarrenAronofsky) January 14, 2014
Then, yesterday, he tweeted again, this time stating that Nick Nolte had crossed paths with Anthony Hopkins, who is playing Noah's grandfather Methuselah, while the two actors were finishing their ADR (automated dialogue replacement) work:
finishing up ADR and the legends unite, nolte and hopkins: pic.twitter.com/e9T7VAn2t8

— darren aronofsky (@DarrenAronofsky) January 18, 2014
Note, incidentally, how Aronofsky says Margolis was "always" playing Magog — even though the initial reports said he was playing Samyaza. If I had to guess as to why there was confusion over this, I might speculate that Margolis — who was definitely on location in Iceland — might have done the motion-capture work for all of the Watchers, and it's only now, in post-production, that the filmmakers have needed to differentiate between these supernatural characters by hiring different actors to provide the voices. But that would be just a guess on my part.
Either way, it's good to see that Margolis's streak, of appearing in every single feature film directed by Darren Aronofsky, remains unbroken!
Incidentally, do you remember how, a year and a half ago, Marton Csokas was cast in an "unspecified role" in this film? I just noticed that the film's IMDb page indicates that Csokas is playing someone called Lamech — but is he playing the son of Methuselah and the father of Noah, or is he playing the father of Tubal-Cain, the villain played in the film by Ray Winstone? Inquiring minds want to know!