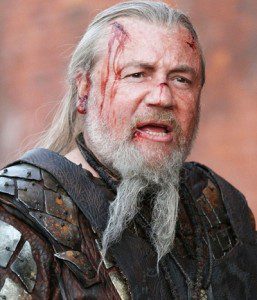 I had hoped to have a review of Star Trek into Darkness ready to go live this afternoon, but it's taking longer to write than I expected, so it will have to wait. In the meantime, here's a brief update on Darren Aronofsky's Noah, which I haven't mentioned here in a while.
Empire posted an "exclusive" interview today with Mark Margolis, who has acted in all of Aronofsky's films and will play "a fallen angel known as Samyaza" in the new film.
Margolis himself calls his character "a 12-foot god", and although he doesn't say what his character will do, exactly, in the new movie, he does talk about what it was like to play the character, who will eventually be rendered in CG:

"All of my scenes are with Russell [Crowe], who I found to be a very funny guy," said Margolis. "They used me and my voice, but they had a pole standing up from a backpack I was wearing, so that Russell had a sightline of a person 12 feet high. I hope that some of my facial movements are used in the final thing."
Reading this, I am reminded that I meant to blog a couple of other stories that popped up back in February, in which another actor from Noah talked about the film.
Ray Winstone (pictured above), who plays Tubal-Cain, fielded a few questions about the movie while promoting The Sweeney. Speaking to Ain't It Cool News, he said:
I play Tubal-Cain [Noah's brother-in-law], who is supposedly the bad guy, but I kind of look at him as being the good guy really. He made a lot of sense to me, but that's just me. I had a great time, Russell Crowe was a pleasure to work with, and I enjoyed Darren Aronofsky. He's a very, very clever man. . . .

There's a good amount of money being spent on this film, and it's kind of relevant to today in a way, what man has done to the planet. Even though it's told in a time it was supposed to be, there was civilization before that. There was a city before that. So you get the idea that this has all happened before, you know? It's kind of a very clever way of looking at it.
Winstone made similar comments in an interview with
Crave Online
:
"The madness of Noah is a big thing," Winstone said. "How do you look at someone who says, 'I want to save all the animals in the world but not the people?' So it's kind of a double edged sword really. It's set in the days, it's set back in the time but you get that kind of vibe that it's all happened before, that humanity and civilization was there before as big as it is today. It's got that kind of ring to it as well."
It sounds almost like this film could tap into the same sort of environmental themes that have coloured other interpretations of the Noah story, such as Evan Almighty (2007), while at the same time arguing against the sort of extremism that is advocated by groups like, say, the Voluntary Human Extinction Movement.
Incidentally, speaking of Star Trek and Noah, did you know that they both have the character Methuselah in common? In Noah, he will be played by Anthony Hopkins, while in a 1969 episode of the original Star Trek, it was revealed that Methuselah was actually an immortal being whose other aliases included King Solomon, Alexander the Great, Lazarus, Merlin, Leonardo da Vinci and Johannes Brahms. True story.