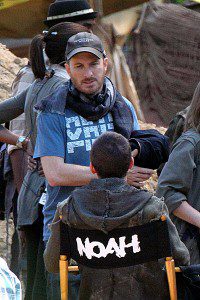 We can't let more than a few weeks go by here without posting something about Darren Aronosky's Noah, so here's a link to some photos from the New York set that were posted at On Location Vacations a couple weeks ago.
In these pictures, you can see, among other things, co-stars Logan Lerman (who plays Noah's son Ham) and Madison Davenport (who plays Ham's wife Na'el) dressed in somewhat raggedy clothes and covered in a thin layer of dirt. Even more interestingly, perhaps, you can also see what looks like soldiers carrying spears and dressed in antediluvian armour.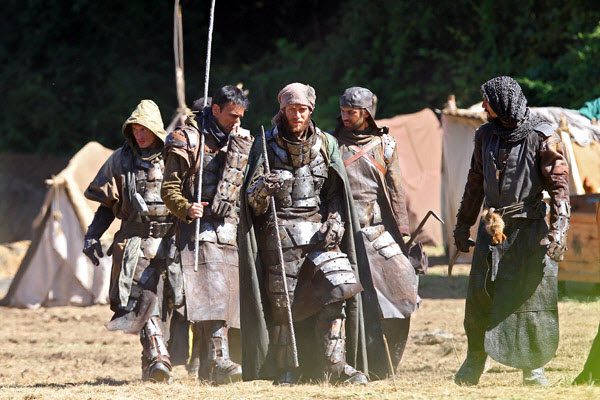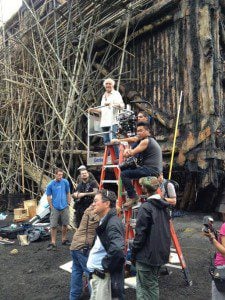 In addition, last week Aronofsky himself tweeted an image of actor Mark Margolis standing in front of what appears to be the massive Ark set that was built for this film, and he asked someone to "please give this legend the Emmy".
Interestingly, Margolis, who has appeared in all of Aronofsky's previous films and recently received his first Emmy nomination for an episode of Breaking Bad, is slated to play someone in Noah named Samyaza, according to the IMDb. According to Wikipedia, Samyaza is "a fallen angel of apocryphal Jewish and Christian tradition" and one of the "Watchers" who have come up in earlier posts at this blog. Even more interestingly, it seems that some — but by no means all — of these later traditions may have identified Samyaza with Satan.
Margolis is clearly neither in costume nor in character in this picture, so it's way too early to say where the film is going with this. But it's just one more thing that makes me very interested to see this film when it comes out in 2014.