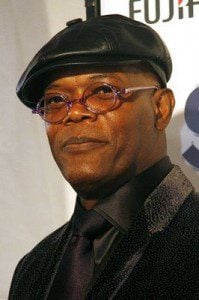 Two months ago, I noted that there were no less than four movies in development that dealt in some way with the birth of Jesus — and, at the time, it looked like the one that would get made first was Black Nativity.
It was based on a popular musical, and it had actors like Samuel L. Jackson, Angela Bassett and Jennifer Hudson lined up for a story about a young black teen who spends Christmas with his grandparents, one of whom is a pastor — and along the way, there was going to be "a stylized, dream-sequence retelling of the classic Nativity story" in which the pastor would appear as "multiple characters".
But now comes word, via the Hollywood Reporter, that Fox Searchlight has pulled the plug on the film mere weeks before it was supposed to start shooting.
The reason? Jackson passed on the project, possibly for paycheque reasons, and the studio couldn't find another bankable African-American leading man who could both sing and be convincing as the father of Hudson, who is 31. (Jackson, for his part, is 63, while Bassett, who was set to play Hudson's mother, is 54.)
The studio reportedly also approached Laurence Fishbune, who is 51, but he, too, passed on the project, as have others. So it looks like the film — which was supposedly being "fast-tracked" as long as three and a half years ago — will have to wait just a little while longer before it hits the big screen.