I may have stepped aside from regular blogging for two or three years, but some of the projects I talked about back then are still in development. Case in point: Black Nativity, an adaptation of the 1961 Broadway musical.
When I last mentioned it in April 2009, Fox Searchlight was said to be "fast-tracking" the film for release in December of that year — but I don't think I heard anything about it again after that, until today.
Today, Variety reports that Samuel L. Jackson, Angela Bassett and Jennifer Hudson are all in talks to star in the film:
Story follows a young black teen from Baltimore who is sent by his single mother to Harlem to spend Christmas with the grandparents he's never met. Through his grandfather's Christmas Eve sermon and a stylized, dream-sequence retelling of the classic Nativity story, he learns about the importance of faith and family.

While the young protag has yet to be cast, Jackson and Bassett have been tapped to play his estranged grandparents, Rev. Clarence and Aretha Cobbs. Hudson is making a deal to play the boy's mother, who hasn't spoken to her father since they had a falling out after she got pregnant. Jackson will likely play multiple characters during the Nativity sequence.
The film is still set to be directed by Kasi Lemmons and distributed by Fox Searchlight, but this latest news story doesn't give a projected release date — which is probably wise, at this point.
Incidentally, this isn't the only baby- or young-Jesus movie that popped up in the news recently after being in "development hell" for a few years.
In May, Variety reported that evangelical mega-pastor Joel Osteen was taking an executive-producer credit on Mary Mother of Christ, a film written by Catholic screenwriters Benedict Fitzgerald and Barbara Nicolosi.
Alister Grierson, who last directed the James Cameron-produced underwater-cave survival story Sanctum (2011), is now slated to direct the film, and Israeli actress Odeya Rush has taken over from Camilla Belle in the title role.
Three years ago, Al Pacino was set to play King Herod, but that is apparently no longer the case. TheWrap.com, quoting the film's press release, reported two months ago that the producers were now negotiating with "one of England's most famous Academy Award winners" to play that role — which, assuming that the winner in question won the award for acting, would seem to mean that they were negotiating with one of the following British thespians (the movies they won the award for are in brackets; I have also noted which of these winners has played a biblical character onscreen before):
Colin Firth (The King's Speech, 2011)
Christian Bale (The Fighter, 2011) — His past credits include Jesus in Mary Mother of Jesus (1999).
Daniel Day-Lewis (There Will Be Blood, 2008; My Left Foot, 1990)
Jim Broadbent (Iris, 2002)
Michael Caine (The Cider House Rules, 2000; Hannah and Her Sisters, 1987)
Anthony Hopkins (Silence of the Lambs, 1992) — His past credits include Paul in Peter and Paul (1981).
Jeremy Irons (Reversal of Fortune, 1991)
Sean Connery (The Untouchables, 1988)
Ben Kingsley (Gandhi, 1983) — His past credits include Potiphar in Joseph (1995), Moses in Moses (1995) and the narration in The Ten Commandments (2007).
There is no word yet on whether the script will retain the revisions that were made at Pacino's request.
Meanwhile, there have also been rumblings recently about an adaptation of Anne Rice's Christ the Lord: Out of Egypt. A previous attempt to make a movie based on her book, which takes place when Jesus is only seven years old, ended badly five years ago.
But then, in December of last year, Variety reported that Chris Columbus, director of the first two Harry Potter films, had acquired the film rights to the book and had hired Cyrus Nowrasteh, director of The Stoning of Soraya M. (2008), to co-write and direct the film.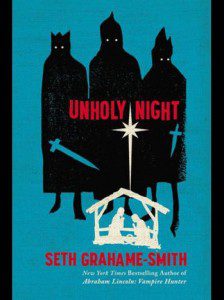 Finally, I would be remiss if I did not also mention that an action-adventure version of the story of the Three Wise Men, called Unholy Night, was also announced late last year. It's based on a book by Seth Grahame-Smith, who also wrote the book and screenplay for Abraham Lincoln: Vampire Hunter, the film version of which came out a couple weeks ago and… didn't do all that well at the box office.
Whether the film version of Unholy Night will get made remains to be seen. But you can read an interesting interview with Grahame-Smith about the novel, at least, that ran in The Hollywood Reporter back in April.