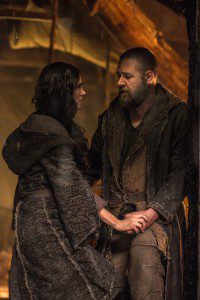 For the first time since it came out four weeks ago, Noah fell out of the top ten — and behind God's Not Dead — at the North American box office this weekend.
Both God's Not Dead and Noah are currently playing in about 1,600 theatres. But where God's Not Dead took in an estimated $2.8 million and landed in the #11 spot, Noah took in $2.3 million and landed at #14.
Noah also took in another $11.1 million overseas, benefiting from strong holds in France, Italy, the UK, Germany, Spain, Turkey and especially Brazil.
Noah has grossed $97.3 million in North America and another $222.7 million overseas, for a global total of $320 million. God's Not Dead, for its part, has grossed $52.7 million in North America and has presumably made more money overseas, where it has been playing for a few weeks now, but no foreign figures are available at Box Office Mojo yet.
As of this weekend, Noah has passed Black Swan to become Darren Aronofsky's top-grossing film ever overseas, though its domestic total still lags behind the $107 million that that Oscar-winning film earned in North America.
Noah is also the fourth-highest-grossing Russell Crowe film ever overseas — behind Man of Steel (2013), Les Miserables (2012) and Gladiator (2000), only one of which clearly had him in the lead like Noah does — and it will soon be his fourth-highest-grossing film ever worldwide, as well. In North America, it ranks seventh, behind A Beautiful Mind (2001), American Gangster (2007) and Robin Hood (2010).
The film is also Jennifer Connelly's top-grossing movie ever worldwide, though it lags behind A Beautiful Mind (2001) and Hulk (2003) in North America.
And for Anthony Hopkins, the film currently ranks fourth overseas — behind Mission: Impossible II (2000) and the two Thor movies (2011-2013) — and seventh in North America, behind How the Grinch Stole Christmas (2000), for which he provided the narration, as well as Silence of the Lambs (1991) and its sequel Hannibal (2001).
In other "faith-based" news, Heaven Is for Real earned $13.8 million for the #3 spot at the North American box office, behind newcomer The Other Woman and the fourth week of Captain America: The Winter Soldier. That represents a drop of 38.7% from the film's opening last week. It has now earned $51.9 million altogether.
Son of God also scraped up an extra $69,000 in 211 theatres, a drop of 74.5% since Easter weekend. The film has now earned $59.6 million in North American theatres and another $8.1 million overseas, for a worldwide total of $67.7 million.