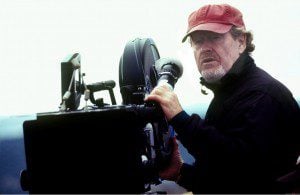 Two years ago, Ridley Scott explored the possibility that aliens created life on Earth — and that one of those aliens might have been Jesus — in Prometheus.
Later this year, he will tackle the story of Moses, the Egyptian prince who turns against the royal family that raised him, in Exodus: Gods and Kings.
Now imagine him putting those two stories together.
Variety and The Hollywood Reporter say Scott has signed on to direct the pilot for an HBO series called Pharaoh, a sort of sci-fi-flavoured sword-and-sandals show that will revolve around "an alternate explanation for the foundation and ascent of the ancient Egyptian empire — one in which greatness was bestowed upon us by beings from another world, calling into question what it means to be a 'god.'"
Scott, who cut his teeth as a director on British television in the 1960s — and who still produces lots of TV shows, including the upcoming adaptation of Bill O'Reilly's Killing Jesus — has directed almost nothing but big-screen films since making The Duellists in 1976. But he did direct a TV-movie called The Vatican last year.
One thing's for sure: with all these recent religion-themed projects — not to mention older ones like Kingdom of Heaven (2005) — he's definitely got God on the brain.
The series was created by David Schulner (whose credits as a writer and producer include the short-lived modernized-David-and-Saul series Kings), Giannina Facio (an actress who has appeared in most of Scott's films since White Squall) and Colet Abedi (whose TV credits include Fashion House and Unsealed: Alien Files).
Other ancient-Egypt projects in the works that I have mentioned before include Alex Proyas's big-screen movie Gods of Egypt and the Fox series Hieroglyph.