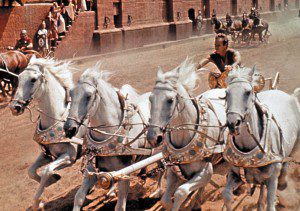 If there's one studio that has consistently tried to revive the Bible epic since the genre died in the 1960s, it's Paramount.
They were involved with Martin Scorsese's The Last Temptation of Christ in the early 1980s, until protesters prompted them to pull the plug mere days before the film was supposed to start shooting.
They were the ones who produced King David, starring Richard Gere, in 1985.
And they were the ones who gave the green light to Darren Aronofsky's Noah, which is now the second-highest-grossing Bible movie ever worldwide, behind Mel Gibson's independently-produced The Passion of the Christ (2004).
So now, reports Variety, they are teaming up with MGM to co-produce the upcoming version of Ben-Hur, which will be directed by Timur Bekmambetov from a script by John Ridley, who recently won an Oscar for his work on 12 Years a Slave.
This is the first news we've had about the film since October. At that time, Ridley had just been hired to rewrite the existing screenplay, and there was talk of shooting the film "in the spring." Well, technically, summer doesn't start for almost two months, so that could still happen — but first they'd have to find actors and whatnot.
At any rate, it looks like this movie could definitely happen, now. And it will be interesting to see what lessons Paramount has learned from all the controversies over Noah.
For one thing, Ben-Hur is an explicitly Christian story in a way that Noah, being part of the Jewish tradition originally, is not. Ben-Hur is also grounded in history in a way that Noah, which takes place in a more "mythical" time before God destroyed and remade his Creation, is not. That might make it easier to sell this film to the sorts of audience members who regarded Aronofsky's film with suspicion.
Early reports have also indicated that the new version of Ben-Hur will pay more attention to the life of Jesus than the Charlton Heston film did. That, too, could have a certain appeal to the "faith-based" market, provided they handle it right.
Interestingly, this is not the only ancient sword-and-sandals epic that Paramount and MGM have collaborated on; the two studios also joined forces for the upcoming Hercules starring Dwayne Johnson. That film comes out in July of this year.
Both Paramount and MGM were forces to be reckoned with during the two earlier Bible-movie waves, during the silent era and the post-war boom.
Paramount owed its own successes largely to its association with Cecil B. DeMille. In the silent era, they produced The Ten Commandments (1923) together, and then they kicked off the post-war Bible-movie boom with Samson and Delilah (1949) before producing their megahit remake of The Ten Commandments (1956).
MGM, for its part, produced two enormously successful versions of Ben-Hur in 1925 and 1959, as well as films like Quo Vadis? (1951) and King of Kings (1961).