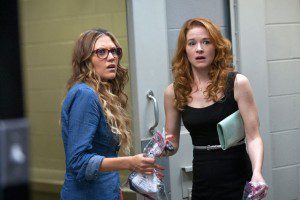 Two comedies came out this week. Both of them have something to say about the importance of marriage and family, and both of them have something to say about the fleeting nature of wild and crazy youth. One of these films is raunchy and R-rated, and it was a box-office hit. The other is rated a family-friendly PG, and it was a box-office disappointment.
Neighbors, the R-rated hit, opened to $51.1 million this week, which is easily the best non-animated opening of Seth Rogen's career, and one of the best openings for a live-action comedy ever. (Most of the comedies that have had better openings were sequels or action-comedy hybrids; the few exceptions are Bruce Almighty, Ted and maybe Valentine's Day and How the Grinch Stole Christmas.)
Meanwhile, Moms' Night Out, the latest attempt to cash in on the "faith-based" audience, opened to a mere $4.2 million — which is actually pretty good compared to the opening weekends for most Christian movies, but pales next to the $9.2 million that God's Not Dead opened to earlier this year (and on fewer screens!), let alone the $22 million or more that Son of God and Heaven Is for Real opened to.
Heaven Is for Real, for its part, dropped only 18.6% from last week to earn another $7 million this week, bringing its domestic total up to $75.2 million. The film, which opened three weeks ago, ranked #4 in North America this week and has earned another $1.7 million overseas for a worldwide total of $76.9 million.
God's Not Dead dropped out of the top ten again in its eighth week and landed in the #12 spot with $1.3 million, thus bringing its domestic total up to $57.5 million. With another $855,000 or so overseas, the film has earned $58.4 million worldwide.
Finally, Noah earned $425,000 in North America this week to bring its domestic total up to $99.8 million, and it earned another $3.3 million overseas to bring its foreign total up to $239 million. The film has earned $338.8 million worldwide so far.