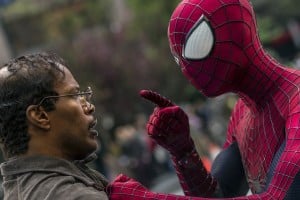 Nothing too exciting to report at the box office this weekend.
As expected, The Amazing Spider-Man 2 had a big opening in North America this week, with an estimated $92 million — but that actually represents the smallest first weekend of any Spider-Man film that opened on a Friday, and the lowest end-of-first-Sunday gross of any film in this series. This, despite the addition of 3D surcharges and the like. (In both cases, the previous low was the $114.8 million that the original Spider-Man opened to in 2002 — which, at the time, was the biggest opening of any film ever.)
In other news, Heaven Is for Real stayed at #3 in its third week and earned another $8.7 million, bringing its domestic total up to $65.6 million. That makes it the top-grossing "Christian" movie of the year so far, if one counts it as such — though I'm inclined to see it as more mainstream than that. The film has earned another $1.1 million overseas, for a worldwide total of $66.7 million.
For its part, God's Not Dead popped back into the top ten this week after a two-week absence. The $1.8 million it earned in its seventh weekend was enough to land it in the #9 spot. The film didn't actually make more money this week than it did in the previous two weeks; like every other film in the top ten, it actually made less. However, some of the films that were ahead of it last week dropped even faster.
God's Not Dead has now earned $55.6 million in North America and at least another $499,000 overseas, giving it a worldwide total of about $56.1 million.
Noah, meanwhile, took in $880,000 in its sixth week, thus raising its domestic total to $99 million. It earned another $6.6 million overseas — almost half of that from Brazil, France and Germany — to raise its foreign total to $233.4 million.
With a global total of $332.4 million, Noah is now the top-grossing Darren Aronofsky film ever worldwide, though it lags a bit behind Black Swan in North America.
Noah is also the fifth-highest-grossing film of the year worldwide so far, behind two superhero sequels (Captain America: The Winter Soldier, The Amazing Spider-Man 2) and two animated films (The Lego Movie, Rio 2), one of which is also a sequel.
Finally, for the first time since it opened in late February, there are no estimates for Son of God. As far as I know, its figures remain what they were last week: $59.6 million domestic plus $8.1 million overseas for a total of $67.7 million worldwide.