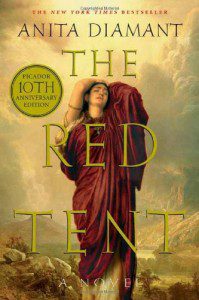 The new thing in Bible movies and similar productions? Telling familiar stories from a female point of view.
First CBS announced that it was going to produce an adaptation of The Dovekeepers, a book that looks at the Roman siege of Masada from the perspective of four Jewish women trapped inside that fortress.
Now comes word that the Lifetime network is going to produce The Red Tent, a two-part mini-series based on a novel by Anita Diamant that looks at the stories of Jacob and his son Joseph from the perspective of Jacob's daughter and Joseph's half-sister Dinah.
What's more, it appears the mini-series will pay special attention to the relationship between Dinah and the four women who raised her: her mother Leah, her aunt Rachel, and her father's concubines Bilhah and Zilpah.
The Hollywood Reporter says the following actors have joined the cast so far:
Rebecca Ferguson — Dinah
Minnie Driver — Dinah's mother Leah
Morena Baccarin — Dinah's aunt Rachel
Debra Winger — Dinah's grandmother (and great-aunt) Rebecca
Iain Glen — Dinah's father Jacob
Will Tudor — Dinah's half-brother Joseph
Little is said about Dinah in the Bible, beyond the fact that she shared a mother with six of Jacob's sons, and that two of her brothers slaughtered the men of an entire town after the prince of that town had sex with Dinah. The sex in question is generally assumed to have been a rape, though it seems Diamant's book portrays the sex — and Dinah's relationship with the prince in general — as more consensual than that.
Interestingly, the director of this mini-series is one of the very few filmmakers who has already depicted Dinah on film, i.e. Roger Young, who included a flashback to the rape of Dinah — and the revenge her brothers got for it — in his Emmy-winning mini-series Joseph (1995). Young went on to direct several other installments of 'The Bible Collection', including Moses (1995), Solomon (1997), Jesus (1999) and Paul the Apostle (2000), and he also recently directed a remake of Barabbas (2012).
Off the top of my head, I can think of only one other film that has paid significant attention to the Dinah story, and that's Cheick Oumar Sissoko's Genesis (1999), which sets the story in a sort of African tribal context. You can watch it via YouTube: