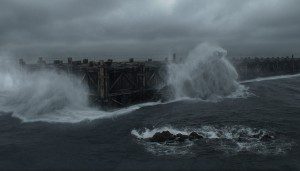 Like most blockbusters these days, Noah has made a lot more money overseas than it has in North America — but simply getting the film released overseas has been more of a challenge than usual.
First it was banned in some (but not all) Muslim countries for dramatizing the life of one of the prophets. Then it was held back in the Philippines because of a legal battle between two distributors. And now it has been blocked by censors in China — the second-largest film market in the world — for being too religious.
The studio had reportedly anticipated this problem, and had planned to downplay the film's religious elements and play up the film's environmentalism and visual effects, etc., when it came out in China. But the censors still decided against the film.
The content of the film might not have been the only strike against it. Some sources indicate that the film may have also been crowded out of the Chinese market — which only admits a certain number of non-Chinese films per year — due to the phenomenal success of the recent Captain America and Spider-Man sequels. The upcoming Godzilla and Transformers reboots are also expected to be big hits.
So it's possible
Noah
got turned down partly because it wasn't a "franchise" pic — an extension of a well-known "brand" — like most of the other big movies.
Interestingly, China's state-run Xinhua News Agency ran an article just a few weeks ago stating that Noah would be released in that country in IMAX 3D. So it would seem the decision to block the film was made rather recently.
Losing China is a significant blow to Noah's box-office prospects, but the film still has at least one major foreign market to look forward to: it opens in Japan next month, and director Darren Aronofsky will be promoting the film there next week.
It will be interesting to see how China deals with the other big-budget Bible movies that are in the pipeline, such as Exodus: Gods and Kings and Ben-Hur.
Meanwhile, the Social Security Administration revealed today that Noah was the most popular name for baby boys in the United States in 2013. This marks the first time since the 1950s that the top name was not Michael or Jacob. The film didn't come out until 2014, but it has been controversial ever since an early draft of the script was leaked in 2012 — so did the buzz give the name a boost? Who knows.